App Monetization Strategy: How Free Apps Make Money
4 months ago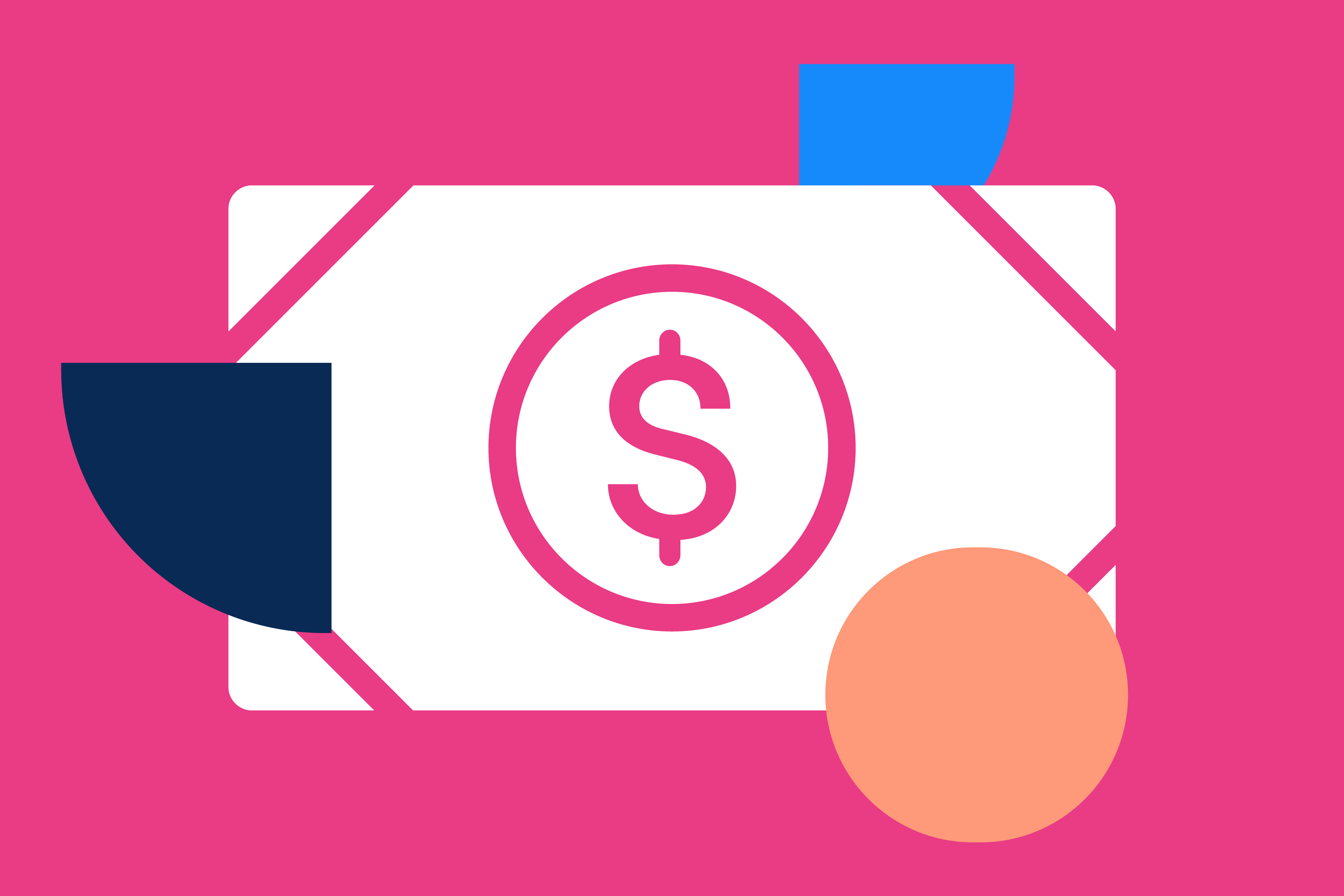 It's no secret that mobile apps can serve as a solid source of revenue. By the numbers:
How do you build a sustainable business that captures this competitive but lucrative source of revenue?
As a mobile app owner, your objective is to grow your app traffic, downloads, and installations and turn that into profits and conversions. To succeed, you need to know the leading app monetization strategies available and determine the best way to make money off your mobile app.
The Market for Free Apps
Free apps are the vast majority of available apps on both the App Store and Google Play.
Paid apps represent less than 7% on the Apple App Store and 4% on Google Play Store.
According to some estimates, only 1 in 2 people have ever paid for a mobile app.
These numbers speak volumes about the market for free apps compared to paid apps. But with so many free apps available through the app stores, many clients wonder, "How can I make money from free apps?"
People love free apps. The good news is that app developers can leverage several app monetization models for mobile applications to tap into this market.
However, you'll need to carefully consider several factors and choose the monetization method or combination of methods before you begin app development.
Factors in Selecting an App Monetization Strategy
Market Considerations
What's unique about your mobile app idea?
What is happening in the industry niche you're targeting?
Who would pay for the ability to use your free mobile app?
When it comes to app revenue and price, it's vital to understand the market, your target audience, and how your mobile app fits in compared to the competition.
For example, in the wake of pandemic recovery, the market has normalized with new consumer habits—like a willingness to spend on non-game apps.
Furthermore, different audiences have different needs, and it's essential that you cater to them by aligning with what they value. Business users may pay for time savings; gamers may be more willing to pay for features that help them level up.
To tailor your mobile application for a particular app monetization strategy during the app development phase, you should come prepared with the best strategy that considers these factors.
Timing Considerations
What is your app development, launch, marketing, and maintenance timetable?
When do you need to show a profit?
Striking the right balance between the time it takes you to grow revenue and your user base will help ensure your app—and your budget—succeed.
Some app monetization models earn more money initially, while profits come later in others. If you can initially forego revenue, you may be able to gather more users and gain more revenue overall.
Building a successful revenue-generating app takes considerable time and, of course, investment. If you're new to app development, our free eBook InspiringApps: A Business Perspective on Building Mobile Apps describes key mobile app development considerations in detail—and we encourage you to start here first.
App Store Considerations
How will you collect payment?
What is the share fee?
What are the store's guidelines for your type of app and monetization model?
App developers have been working with Apple and Google to reduce the percentage of revenue they take for in-app purchases and to provide other ways for users to pay for subscriptions. The percentage has adjusted from 30% to 15% for subscribers in their second year and for small developers applied to the first $1 million in earnings.
There are other ways to reduce or eliminate the share fee. Collecting payments outside of apps may be an approach you'd want to consider if you don't use your app to direct users to external payment processes.
But there are other restrictions placed by the stores. For example, App Store Review Guideline 3.11 requires apps offering paid online group services to do so via in-app purchases.
Free App Monetization Models
Advertising
In-app ads are the most popular monetization model as of July 2022. App advertising enables you to make money by selling advertising space within otherwise free apps.
In-app mobile ads come in all shapes and sizes, typically commanding different values. Various placements and formats range from an interstitial ad, video ad, native ad, and banner ad.
App developers monetize ads in a mobile app in multiple ways:
Cost per thousand (CPM), based on the number of impressions through the ads
Cost per click (CPC), based on the number of clicks the ads deliver
Cost per view (CPV), based on the number of views by the app users
Cost per action (CPA), based on the users' actions, such as installing the advertised app or purchasing through the link, which lead to the developer's commission
The benefit to users is that not only the app but also all its features are free. Multiple services connect app publishers to advertisers. It's a quick way to grow your user base.
However, ads may impact mobile app retention. People can be annoyed enough by the ads to stop using free apps that employ app advertising.
(Interestingly, this has led to another revenue stream—paying for an "ad-free" experience!)
Examples
There are so many examples that it's challenging to carve one out. A few notables include the following:
Paid Advertising
Google Maps is an example of a free app that does app advertising well.
Businesses can list their ads on Google Maps, even creating profiles that allow their businesses to be found more easily. Google Maps also allows businesses to use their company logos instead of generic icons—for a fee.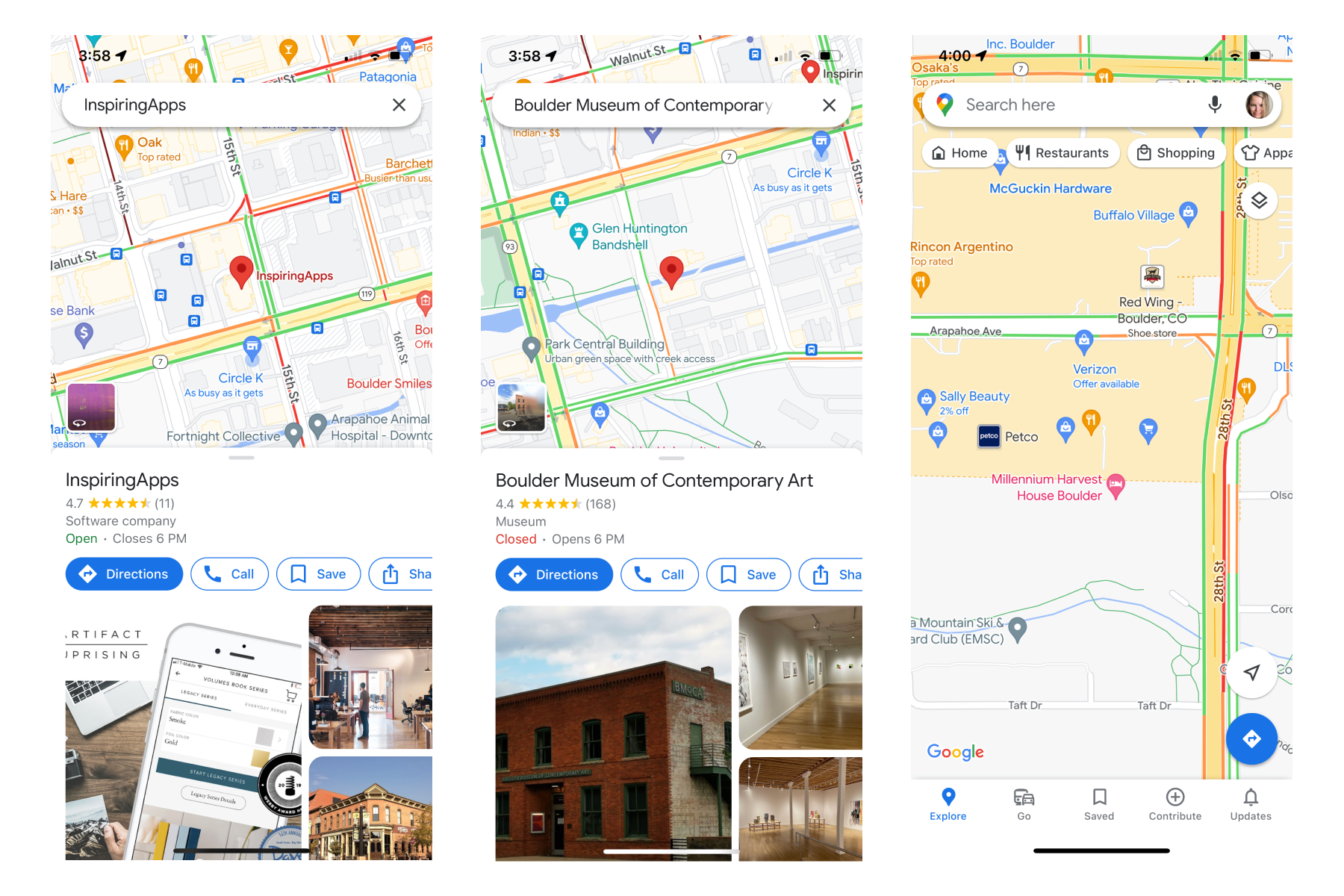 Native Ad + Data Monetization
Another example is Instagram, a free app whose main source of revenue is advertising.
Instagram gathers vast amounts of data, enabling the app to serve highly targeted ads. Brands are willing to pay because they feel confident that the right people will see their ad. Visual ads work well on the platform; they appear seamless next to the visuals people are scrolling through as they use the free app.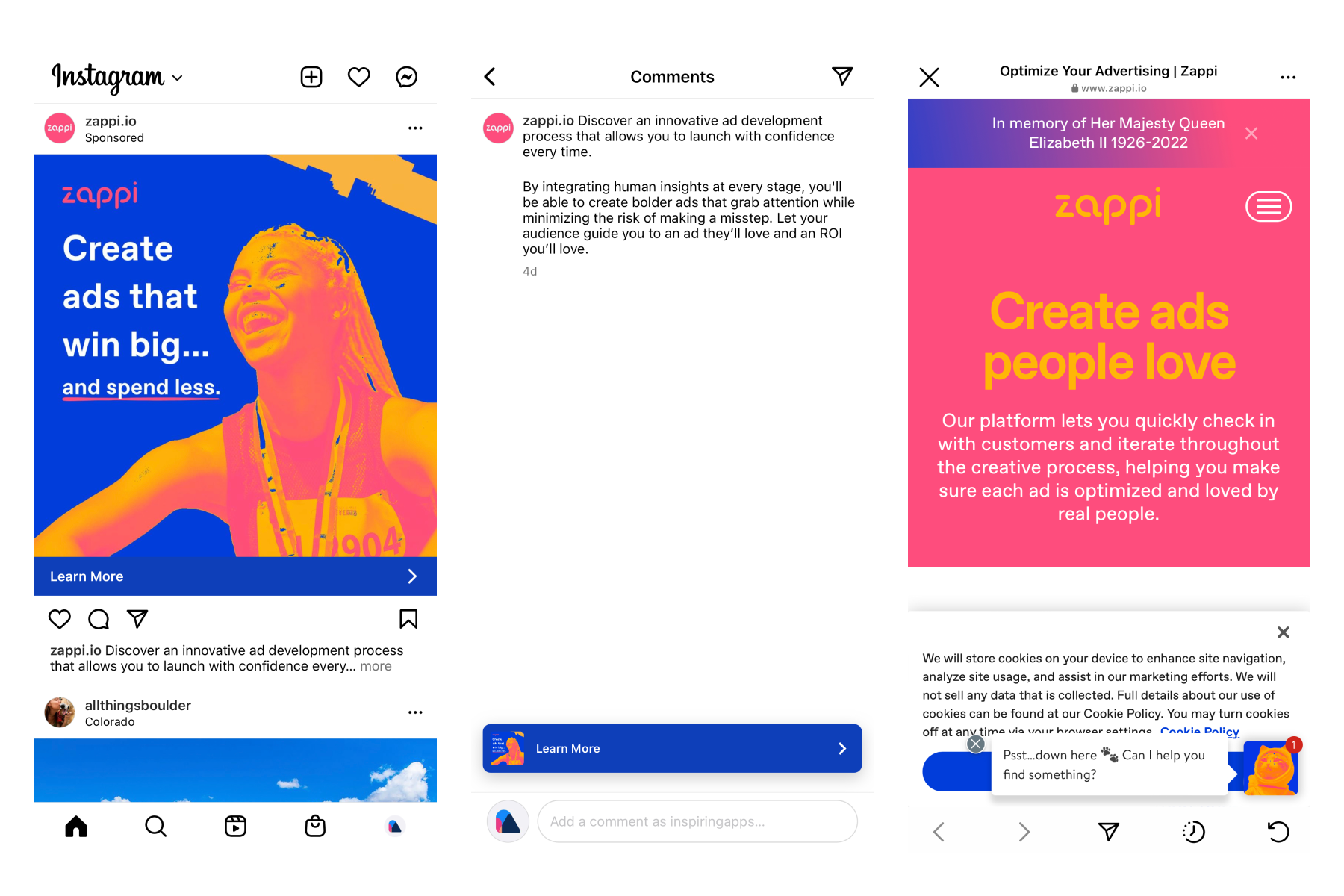 Incentivized Ads
Duolingo also uses advertising—in particular, you'll see a video ad prompting you to download another app, with a reward for watching the ad to entice users.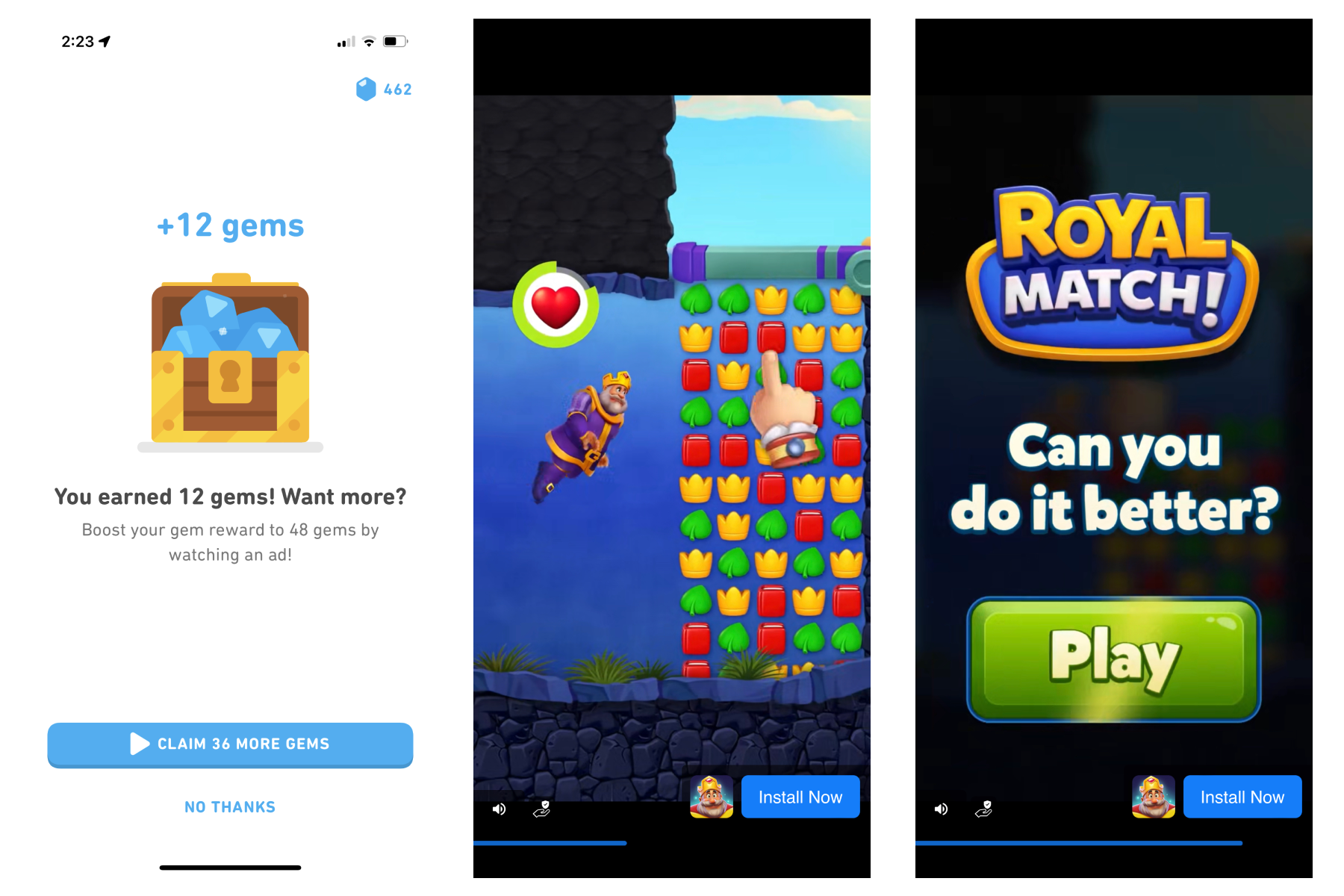 Freemium & Free Trial Apps
The free app market is also split into freemium and free trial apps with the added options of in-app purchases and subscriptions.
Freemium and free trial apps can be a great way to get users hooked on your product. However, compared to apps that use advertising, freemium and free trial apps do not generate revenue until users start paying to access premium features, pay for in-app goods, or continue using the service through subscription.
The good news is that there are numerous avenues for revenue opportunities providing quite a bit of opportunity for app publishers to create the right model for their business.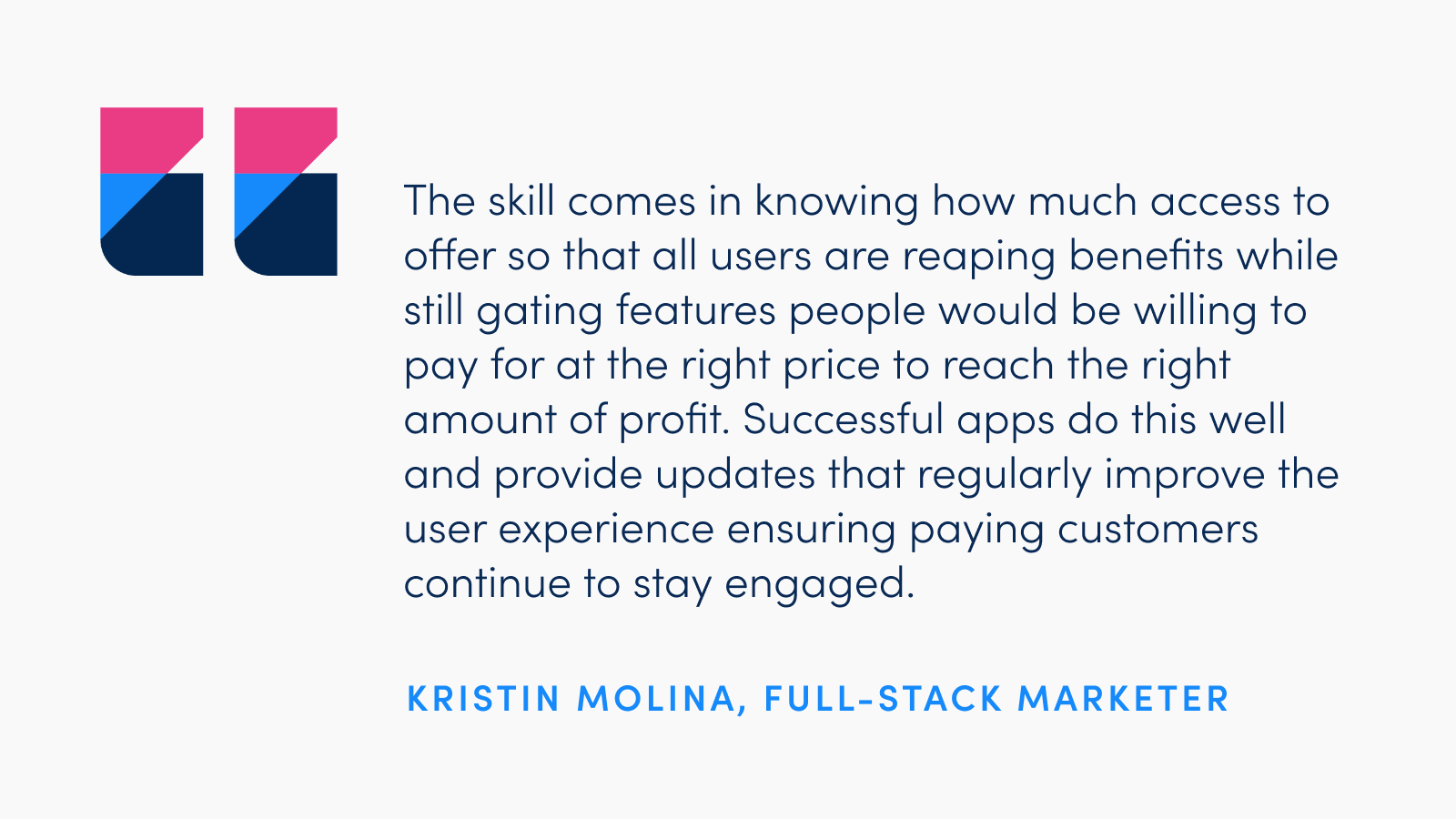 Freemium Apps
Freemium apps allow users access to basic features for free, with or without additional in-app purchases.
Users download the app for free, but certain gated features require them to convert to a paid app or subscription model to use the premium feature. Customers find indefinite free access more appealing than time-delimited trials.
Free Trial Apps
A free trial app usually allows full access to the features but within a limited period.
Because there's no risk to downloading a freemium app from the app store, users are more likely to try freemium over trial apps. However, conversion rates are usually higher with free trials compared to freemiums.
In App Purchases
Through in-app purchases, users can buy digital goods for a specific price.
Popular in mobile gaming, the in-app purchase experience can feel like a natural part of the app. In-app purchases in most gaming apps are consumable; players buy items or gear, such as a sword that offers special powers or virtual currency, to increase their success.
Subscriptions
Subscriptions enable the app developer to target app features to specific user groups or businesses or for a specified time period.
Subscription revenues have increased rapidly over the past few years. That's likely because subscription-based apps offer a steady source of reliable income, which makes planning and investing in upgrades much less risky.
Software-as-a-service models provide different pricing levels, for example, free, premium, and enterprise, as is common practice with productivity and business apps. Many subscription models also offer discounts for longer subscriptions, which is a win-win for both parties.
Examples
Freemium + Free Trial
The popular app Calm is built on a freemium model with a free trial option. Users can access either a 7-day free trial or the free version of the app without paying for premium content. After the free trial ends, users can choose from various subscription options, from a monthly membership to a lifetime one.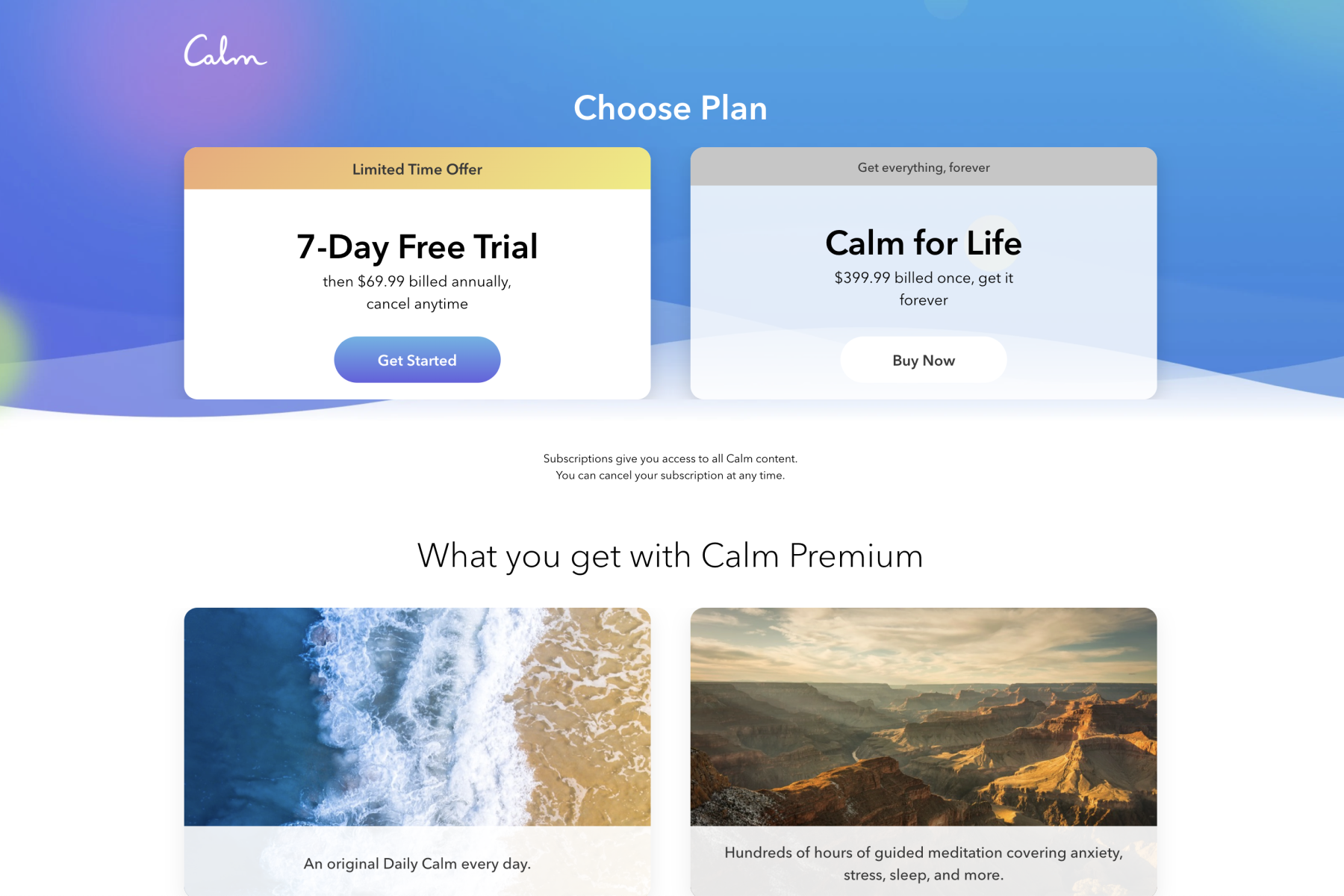 Software as a Service
Asana offers a basic version for free. Some features are only available through higher tier pricing, enticing users to consider paying for an app subscription for an enterprise experience.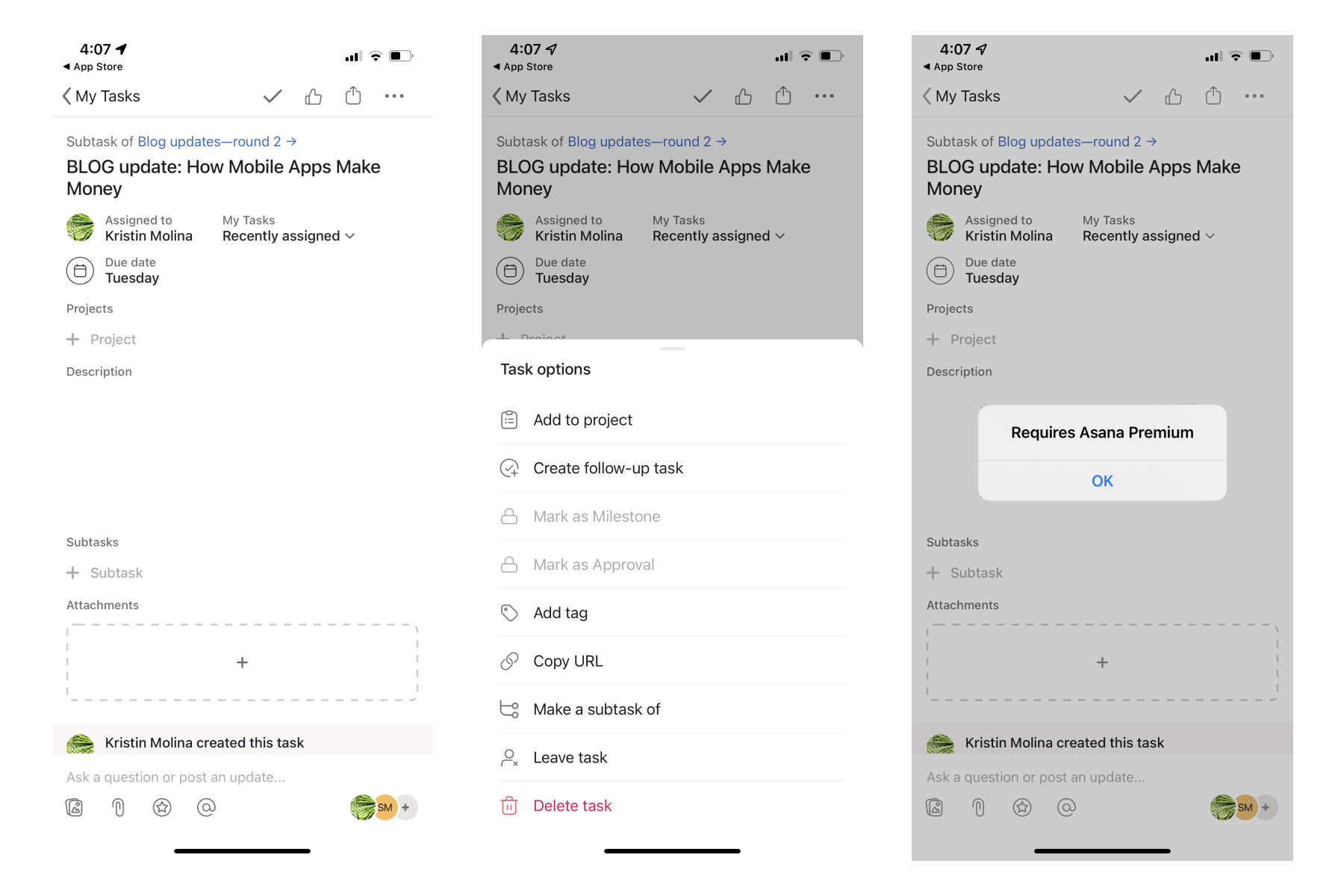 In App Expendables
In the gaming app Plants vs. Zombies 2, users need to purchase upgraded, premium plants to advance to a higher level.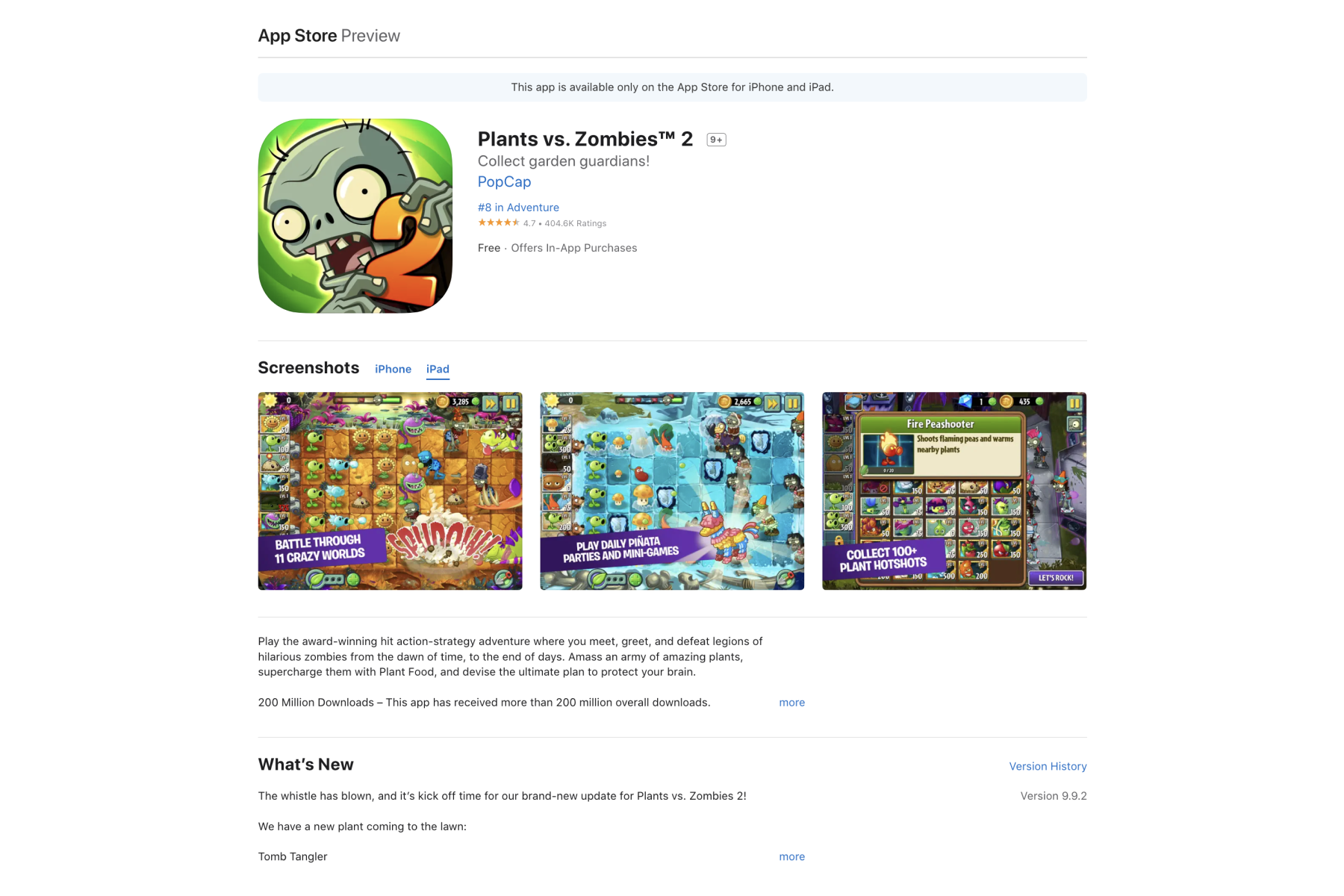 In App Unlockables
In-app purchases are not limited to gaming. For example, you can still buy individual songs from Apple iTunes. And cooking apps like The Photo Cookbook allow you to unlock individual sets of recipes via in-app purchases.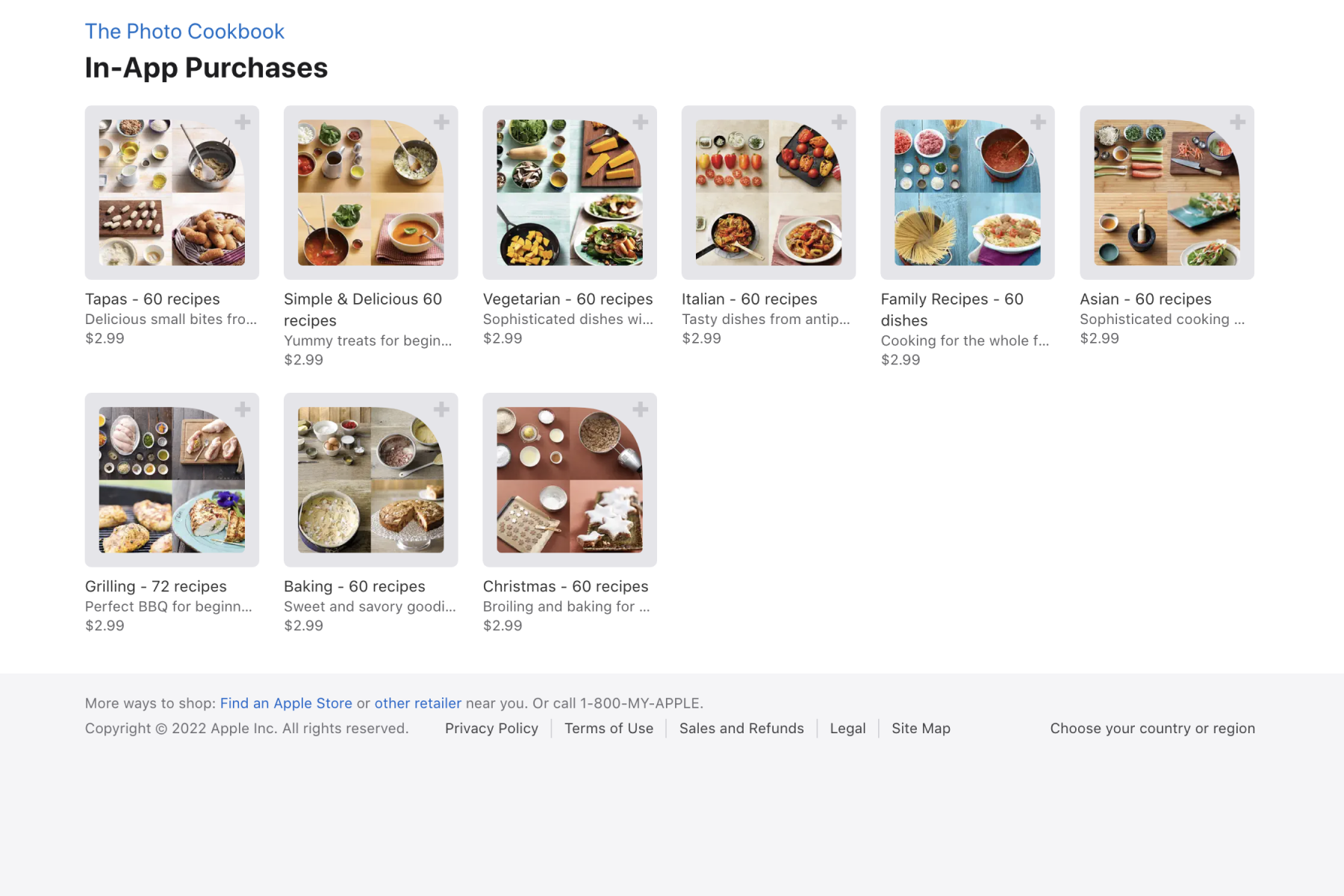 Content Subscription
Certain app subscriptions may be considered free because they gate specific content—in other words, they offer content subscriptions.
With this type of app subscription, the focus is to allow brands to earn revenue on a recurring basis for providing content. Paywalls allow app users to view a predetermined amount of content for free and then ask users to opt into a paid subscription to get more.
Model Limitations
While many freemium models have subscription options that offer flexible payment, the gated content model is increasingly limited to news, learning, and academic sites. Most streaming services utilize advertising or require upfront payment with a trial period (no free lunch).
Costs to operate this model can be high because it requires substantial investment in content. To encourage user signups, the app publisher limits articles read. App publishers often combine the model with advertising to keep the price point attractive to the app user.
Examples
Harvard Business Review, the LA Times, and the New York Times are all examples of a free subscription model. Users have access to a limited number of free articles they can read monthly without a fee.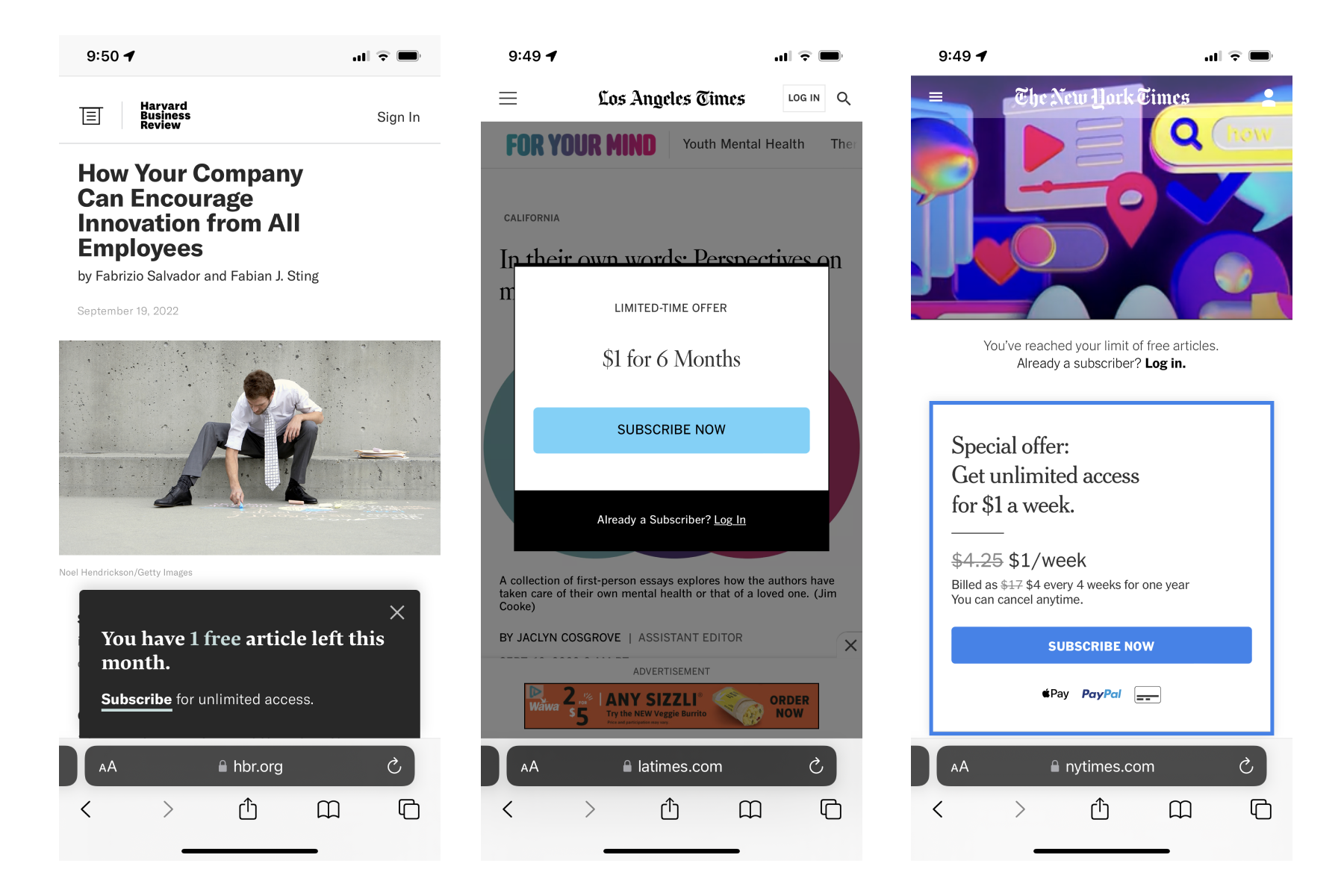 Sponsorship
App sponsorship involves partnering with brands that are a good fit for your niche; it's more exclusive than advertising generally.
In this model, brands pay to be a part of free apps. This type of advertising strategy is likely to be better received by app users because it's relevant and connected to your app's purpose.
Sponsorship can earn revenue by dividing revenue from the mobile app with the sponsor, having an app sponsor for launch, or setting a monthly sponsorship fee. Brands use free apps to reach their target audiences and vice versa, creating a win-win for the sponsor and your business.
Model Limitations
To succeed with sponsors, you need strong networking skills and a narrow focus. Sponsors can be notoriously difficult to find and pitch.
Sponsorship is usually incorporated with those applications that already have regular users and lots of data on those users—in other words, apps that are already mature in their market niche.
So if you have significantly grown your user base over time, have significant data on those users, and have created a well-established business, brands may be interested in establishing a sponsorship deal with you.
An Alternative: Affiliate Marketing
Affiliate links are another variation of sponsorship, but instead of granting sponsorship rights exclusively to one organization, you'll negotiate with a few interested partners and agree to place their reference links in your free app.
App affiliate marketing can be a great way to increase income from apps if you lack a market sponsor who is ready to cover your costs. App affiliates act as marketers and are rewarded for doing so.
Examples
Mobile event apps like EventMobi enable event planners to offer exclusive sponsorship on the app or offer several tiers of visibility for sponsor listings.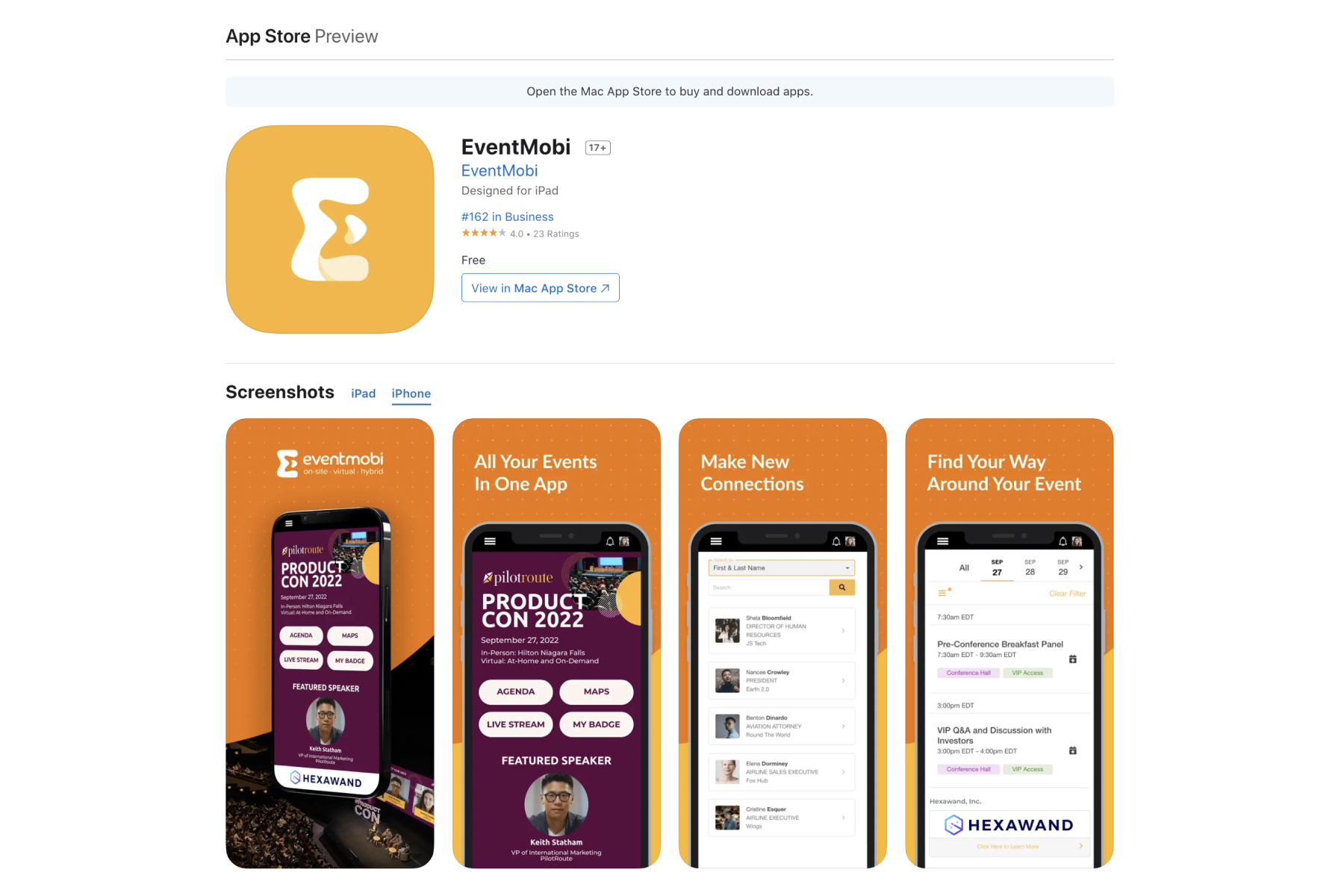 Apple's affiliate program allows app publishers to promote products that people purchase through the App Store through their free apps.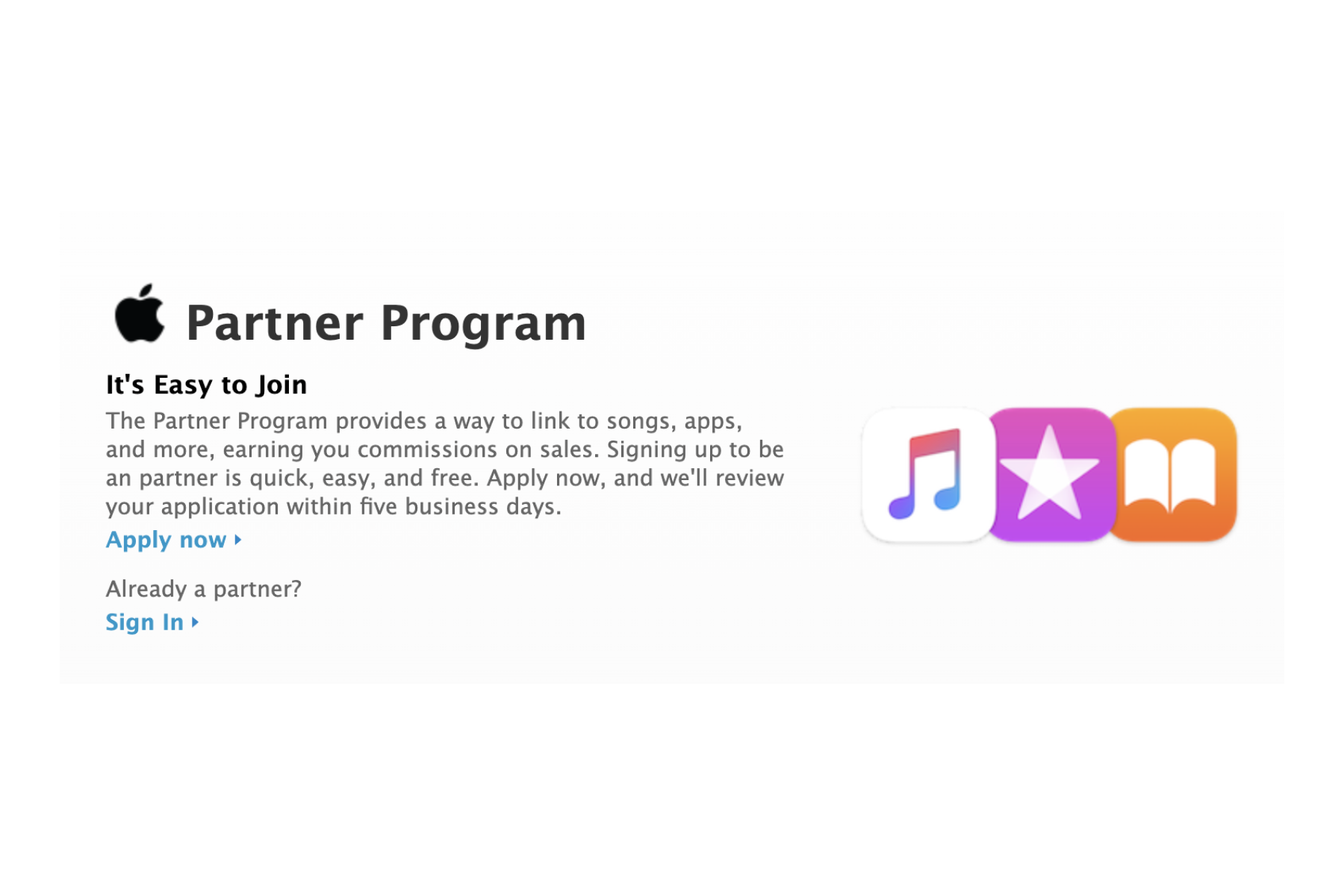 Concluding Thoughts on App Monetization
Free apps and paid apps have costs associated with using them—whether behind the scenes, in the available features or content, upfront, or somewhere in between.
That being said, money shouldn't be on your user's minds but rather how much value and joy your app brings them. While there's no silver bullet, the most successful monetization strategy for your app will be the one that integrates well enough that it feels like a normal part of the app experience.
We're always happy to talk with our clients about which model—or combination of models—could be most effective for you. If you need help to decide, please reach out for a free consultation.
Download our free development guide
In How to Design Digital Products for Every Generation, we share practical takeaways for any company looking to create a successful digital product—with audience strategy on designing for each generation and designing for all.