Eight Great Books to Read in 2018
24 days ago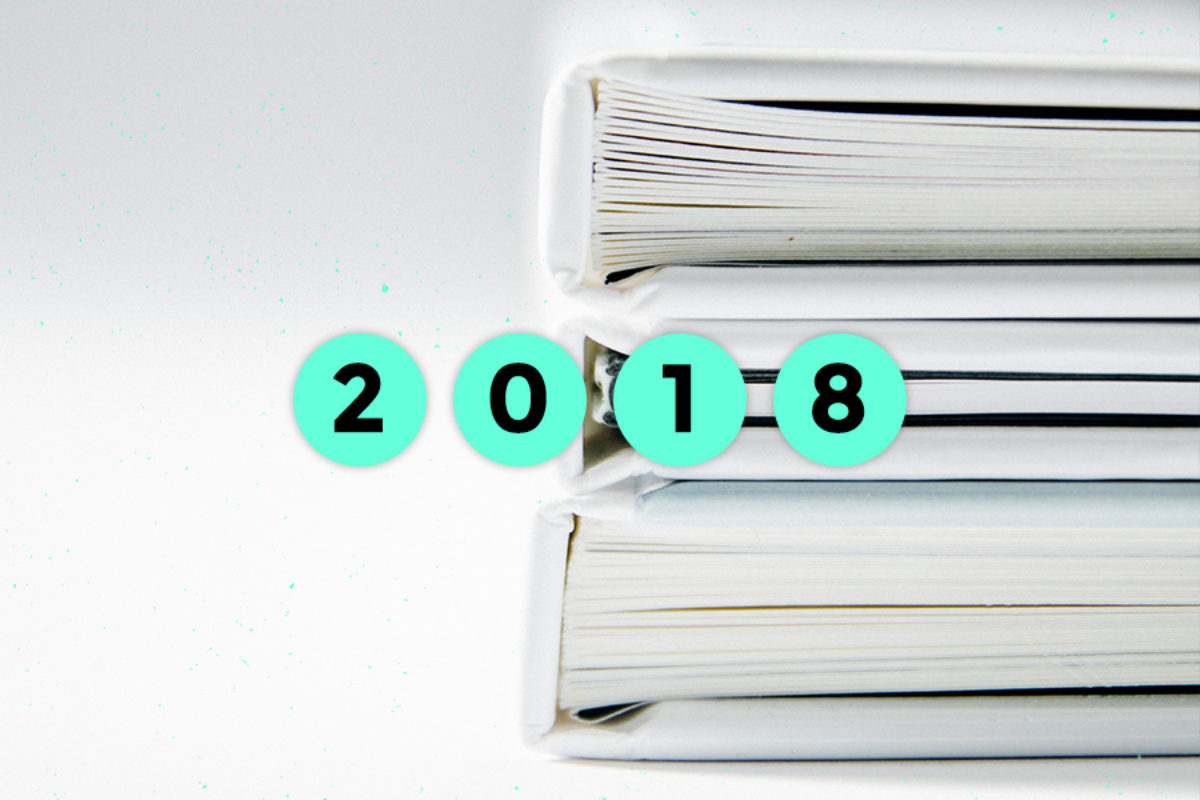 Great books, thankfully, are not hard to find these days. The bigger challenge for many is whittling down the options to a manageable number!
As literature is an important part of growing, both professionally and personally, we took some time to think about what great books we might want to add to our ever-expanding reading list. We share a short list of some of our top book choices for 2018 below – we'd love to hear if there's another "must have" you suggest we add.
While all of these books can be found on Amazon, the link we've included will take you to purchase at the Boulder Book Store. InspiringApps was founded in Boulder, and we love to support local businesses when we can.
Great Books on Business & Leadership
Regardless of your exact role, all of us bear some level of responsibility for helping to lead and grow the organizations where we work. These great books seek to provide insights on how to do that better, as well as how to grow personally.
The Four: The Hidden DNA of Amazon, Apple, Facebook, and Google

Amazon, Apple, Facebook, and Google are currently the four most influential companies on the planet. Scott Galloway, a professor at New York University's Stern School of Business, examines these companies through the lens of a business professor.
In The Four, Galloway focuses on some significant yet practical questions, like how these companies infiltrated our lives, whether or not anyone can challenge them, and how their strategies can be applied to our careers or businesses. We anticipate understanding these companies will be useful whether you "want to compete with them, work with them, or live in the world they dominate."
Perennial Seller: The Art of Making and Marketing Work that Lasts
We are particularly excited to dive into Perennial Seller, a book called out by Inc. as one that every entrepreneur should read. In the age of quickly fading fads, it's more challenging than ever to build a product that lasts. While we already seek to help our clients think through their business strategy, we are hopeful this book by Ryan Holiday will help us to ask even better questions of them.
"Holiday reveals that the key to success for many perennial sellers is that their creators don't distinguish between the making and the marketing. The product's purpose and audience are in the creator's mind from day one. By thinking holistically about the relationship between their audience and their work, creators of all kinds improve the chances their offerings will stand the test of time."
Principles: Life and Work

Ray Dalio, a man who has been called the Steve Jobs of investing, is considered one of the world's most successful entrepreneurs and investors. He wrote Principles to share not only his story, but the principles that he believes undergird both his personal success and that of his company.
"The book's hundreds of practical lessons, which are built around [Dalio's] cornerstones of "radical truth" and "radical transparency," include Dalio laying out the most effective ways for individuals and organizations to make decisions, approach challenges, and build strong teams." We look forward to seeing how his insights might shape us.
Great Books for Tech Lovers
As developers, it probably goes without saying that we're pretty fanatical about all things tech. These great books talk about tech from different angles…read them to learn everything from which technologies will shape the future to how to be part of inventing what's next.
The Inevitable

Written by leading technology thinker and writer Kevin Kelly, The Inevitable is a guide through the twelve technological imperatives he believes will shape the next thirty years.
"Kelly provides an optimistic road map for the future, showing how the coming changes in our lives—from virtual reality in the home to an on-demand economy to artificial intelligence embedded in everything we manufacture—can be understood as the result of a few long-term, accelerating forces." We look forward to gleaning from Kelly's perspective and insights!
The One Device: The Secret History of the iPhone

As app developers, the iPhone is near and dear to our heart. In The One Device, Brian Merchant sheds light on the development of this technology and the illusive company that transformed our world through it's creation.
While you might understand our passion for reading the book, we think it's likely to offer insights to those in any profession. The One Device has been called "a roadmap for design and engineering genius, an anthropology of the modern age, and an unprecedented view into one of the most secretive companies in history. This is the untold account, ten years in the making, of the device that changed everything."
Play Bigger

According to the authors of Play Bigger, "winning today isn't about beating the competition at the old game. It's about inventing a whole new game—defining a new market category, developing it, and dominating it over time. You can't build a legendary company without building a legendary category."
While not all of our clients have aspirations of being the next Salesforce or Amazon, all desire to use technology to build something of value. In the same way that the Innovator's Dilemma showed how to disrupt an aging market, we are hopeful Play Bigger will give insights on how to create demand where none previously existed – something the tech industry loves to do.
Great Books to Simply Enjoy
While reading to enhance your professional knowledge is important, it's also valuable to take some time to read just for the sheer enjoyment of it. The best part of these two great books is that they're actually non-fiction, so you'll still be learning as you are immersed in the gripping stories they tell.
Janesville

Winner of numerous awards, including the McKinsey Business Book of the Year, Janesville is a well-researched and touching book that brings a fresh perspective about the evisceration of the American working class.
"Pulitzer Prize winner Amy Goldstein has spent years immersed in Janesville, Wisconsin where the nation's oldest operating General Motors plant shut down in the midst of the Great Recession, two days before Christmas of 2008. Now, with intelligence, sympathy, and insight into what connects and divides people in an era of economic upheaval, she makes one of America's biggest political issues human. Her reporting takes the reader deep into the lives of autoworkers, educators, bankers, politicians, and job re-trainers to show why it's so hard in the twenty-first century to recreate a healthy, prosperous working class."
Just Mercy: A Story of Justice and Redemption

We may be late to the game in reading this highly lauded book, but better late than never. If you didn't read it last year, we hope you'll add it to your list as well.
"Just Mercy is at once an unforgettable account of an idealistic, gifted young lawyer's coming of age, a moving window into the lives of those he has defended, and an inspiring argument for compassion in the pursuit of true justice. Bryan Stevenson was a young lawyer when he founded the Equal Justice Initiative, a legal practice dedicated to defending those most desperate and in need: the poor, the wrongly condemned, and women and children trapped in the farthest reaches of our criminal justice system. One of his first cases…drew Bryan into a tangle of conspiracy, political machination, and legal brinksmanship–and transformed his understanding of mercy and justice forever."
Blog Categories
App Design
App Development
Business & Strategy
Client Projects
Events
InspiringApps News
Mobile Industry
Technology