The Newest Consumer Apps You'll Want to Use
24 days ago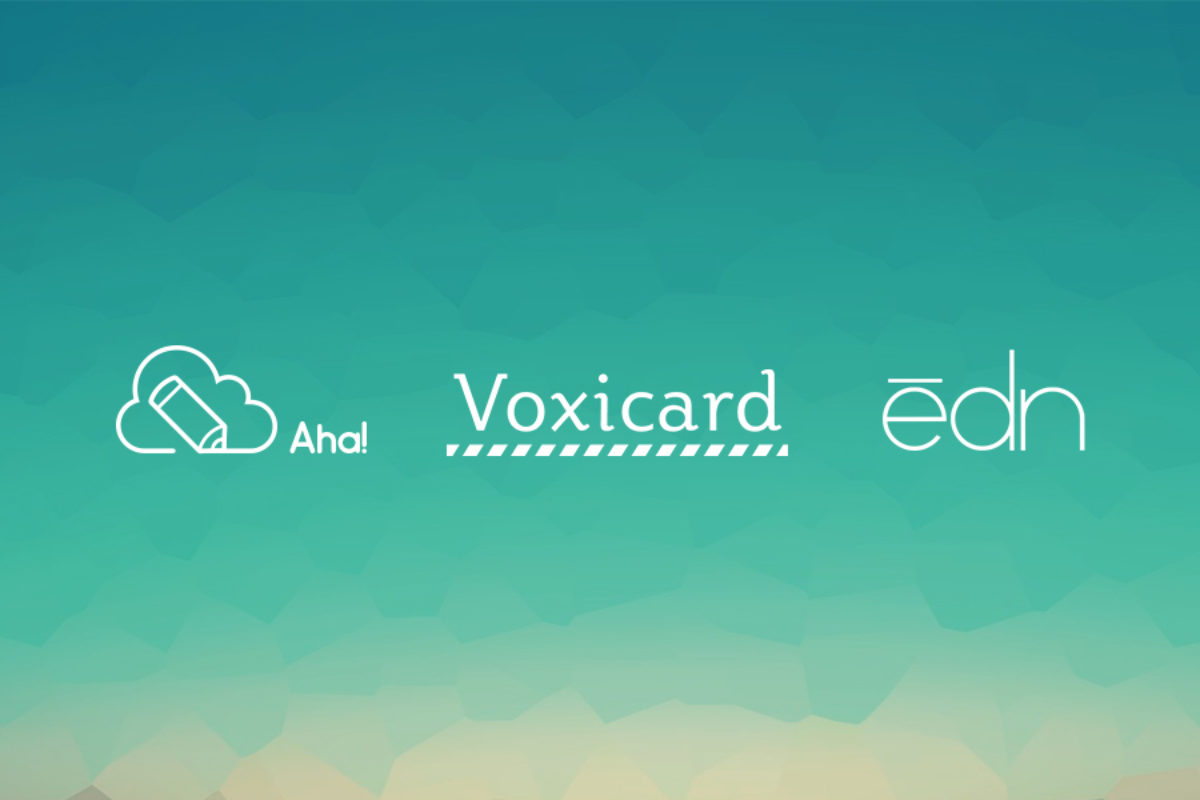 Despite the millions of apps in the app stores, entrepreneurs keep coming up with great ideas for fun new consumer apps. InspiringApps recently had the privilege of working with three young companies to design and develop some exciting new consumer apps: ēdn, Voxicard, and Ahaa!
Ahaa! and Voxicard are both image-centric social apps meant to get you back in touch with your surroundings and connect you with friends and family across states and oceans. ēdn changes the way you garden, leveraging technology to help you at every stage from planting to harvesting. Here's an overview of each of these consumer apps – we think you'll want to try them out!
Ahaa! "A Game of Perspectives"
Ahaa! provides a way for you to connect with your friends in an innovative way. This consumer app, available on the Apple App Store, is a "game of perspectives" that lets you share images of the everyday with your own creative spin. Matthew at Ahaa! considers this app a way to transform our phones into windows that allow us to get back in touch with the world.
The premise is simple — snap a shot of a mountain, work of art, or piece of furniture. Then draw on the photo to show what animal, shape, or fantastical creature you see. You can send your creations to your family and friends, and they in turn can draw their own interpretation of your image.


As Matthew at Ahaa! emphasizes, this consumer app is a "game where no one wins or loses." Rather, it allows us to look at the same images from different angles. The inspiration arises from the universality of human vision. While the app allows users to explore different perspectives, it taps into a quality shared across cultures and age groups: imagination. We all look to the clouds and mentally draw images. Ahaa! brings that mental creativity into a physical reality, allowing users to share their interpretations in a concrete way.
Additionally, as the app expresses a universally shared concept of imagination, Ahaa! offers fun for a range of ages. From parents playing with their children to college friends sharing their artistic images of campus with each other, this consumer app enables us to view the world through different pairs of eyes – and the more, the better.
The more friends you share with, the more "aha moments" you experience while scrolling through different viewpoints. Matthew references Henry David Thoreau: "It's not what you're looking at that matters, it's what you see." With Ahaa!, it's not just what you see, it's what your friend sees, you brother sees, your coworker in China sees. It provides the range of human vision in an interactive way.
When asked what most excites him about the upcoming release of Ahaa!, Matthew immediately comments: "Seeing imaginations being turned on." The development process with InspiringApps has further turned on Matthew's own imagination. Matthew not only enjoyed seeing his dream come to life, but also experienced the possibilities of working with a creative team. As he puts it, "It's been a fun ride, and it's definitely not my last."
Voxicard: "The New Way to (Post)card"
In a similar vein to Ahaa!, Voxicard is a consumer app that spins a contemporary take on the age-old concept of sending postcards to friends and family. Named as a mashup of the Latin word for voice and the suffix of "postcard," Voxicard's uniqueness arises in the "secret message" you include in every card.
You begin by uploading a photo from your phone's camera roll or taking a picture directly in the app. Add the location of your postcard and the date you took it. Voxicard then allows you to incorporate an audio or video message before including the address details of your recipient. The Voxicard team sends a physical postcard (with your custom image) to the address you listed and includes a QR code that lets your friend access your special audio or video message.

Voxicard incorporates the physical qualities of a postcard with the modern capabilities of smartphone technology, bringing together the virtual and physical. An avid traveler, Tres at Voxicard wants to connect travelers to their loved ones – and bring back the spark of excitement we all have when we find a personal letter in our mailbox. Voxicard brings back some of the tangible charm that existed before the digital age and adds a bit of joy to your mailbox.
That charm shows up in the design that features a "clean, vintage look" both in the app and on the physical postcard. Blue and red slashes line the bottom of every Voxicard in a nod to the aesthetics of European air mail. The square photo format reminds most of us of an Instagram-styled layout. Yet, it also represents an homage to the original square, instant photo – the polaroid. Also, as Tres notes, the physical component of Voxicard means that some cards arrive a little "beaten up." The wear and tear only further contribute to the vintage allure, showing the effects of transit.
edn: "We change the way people grow."
As the name would indicate, ēdn deals in gardens. These are no ordinary gardens, though, but ones that leverage technology for an almost entirely automated gardening experience. ēdn brings an new way to grow into your home and office, making it possible for even city dwellers (with no yard of their own) to have the beauty of a garden.
ēdn has "taken the bugs, dirt, and stress out of gardening" through a beautiful system where nature meets design and technology. The company uses responsibly sourced bent wood and anodized aluminum to create their garden boxes, and provides a wide range of seed pods that drop into place. Consumers who love to cook can create a culinary garden chock full of herbs, and those who prefer take-out can opt to build a decorative garden instead.


ēdn keeps either garden their healthiest and happiest with a small, built-in computer. Automated LED lights provide your plants with the light spectrum your greens need to thrive, while sensors determine your plants' ideal moisture level and tell you when more water is needed.The ēdn companion app pairs with your SmallGarden or WallGarden to help you maintain water levels, alter light schedules, order new plant supplies, and even advise on when and how to harvest.
As Ryan puts it, ēdn is the "Keurig for gardens – just drop in the pods and the software takes care of the rest." ēdn wants to change the way you experience nature and make it easier to grow and maintain household gardens. The app helps to enhance the user experience of SmallGarden and WallGarden owners. You can order the garden from ēdn, and download the app from the Apple App Store.
Concluding Notes
Ahaa!, Voxicard, and ēdn are all free iOS apps, and, as mentioned above, you can download ēdn and Ahaa! now. Keep an eye out for the launch of Voxicard in the next few weeks – be sure to share about them all with your friends!
If you want to learn more about our newest consumer apps or want to talk about your own idea, please get in touch. We delight in the opportunities we've had to work on all kinds of apps, ranging from internal apps to improve the productivity of Fortune 500 companies to consumer apps for innovative startups – and everything in between.
Blog Categories
App Design
App Development
Business & Strategy
Client Projects
Events
InspiringApps News
Mobile Industry
Technology