Top App Performance Metrics To Monitor
1 month ago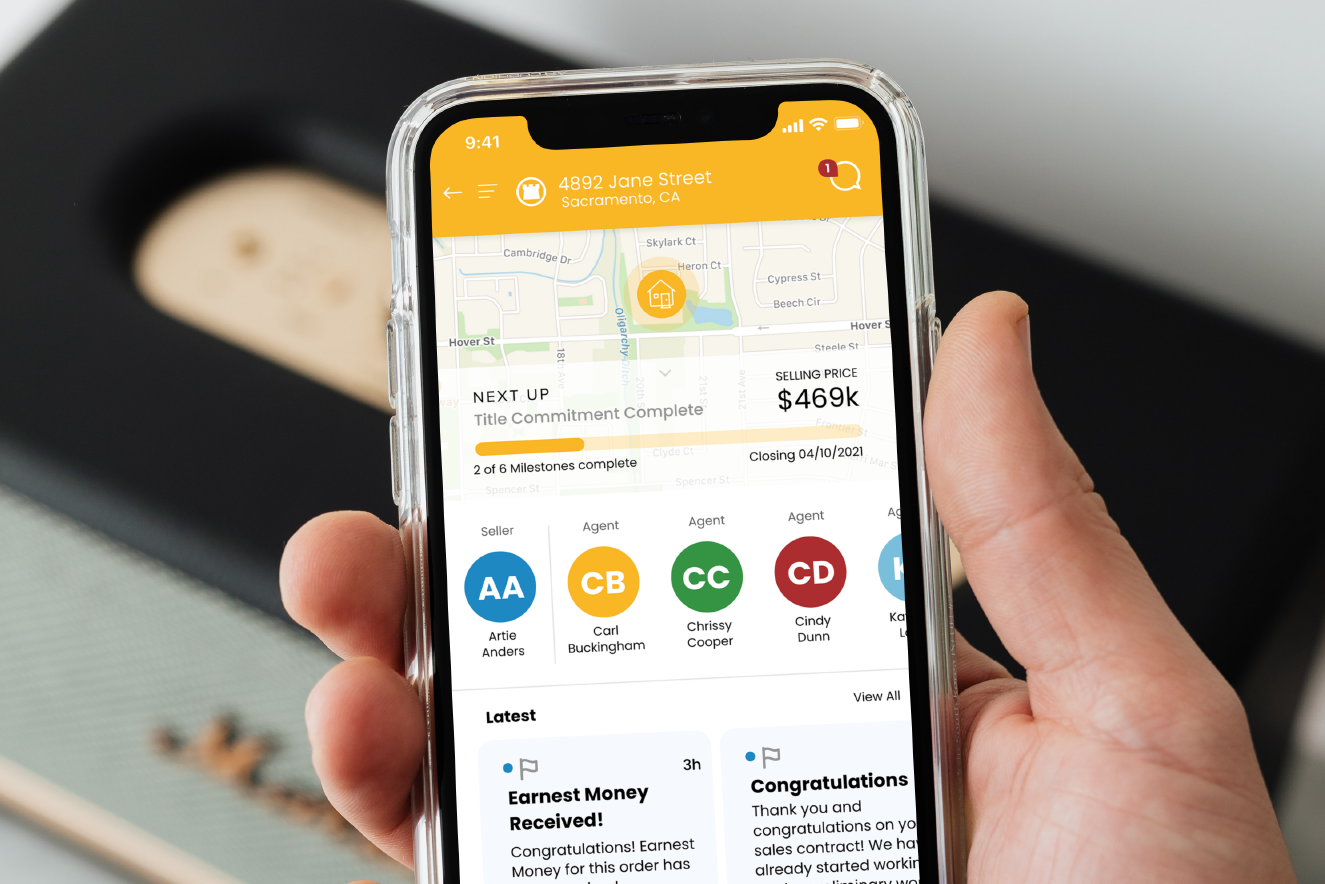 Even the most thoughtfully developed apps will need to evolve, and one effective way to spot opportunities for improvement is through application performance monitoring.
Application performance metrics fall into several categories, each providing a unique look at app performance and areas for improvement. We believe it's essential to be keeping an eye on user acquisition, user engagement, and customer satisfaction.
User acquisition metrics reveal the success of your marketing efforts, monitoring things like the number of downloads and users.
Engagement looks at user experience and how users interact with the app, from how long the average person spends in the app to user turnover rates.
Customer satisfaction measures how successfully an app meets user expectations and the likelihood of a user recommending the app.
We'll look at each of these app performance categories and talk about key metrics to gauge how your app is doing in each of them.
App Performance Metrics for User Acquisition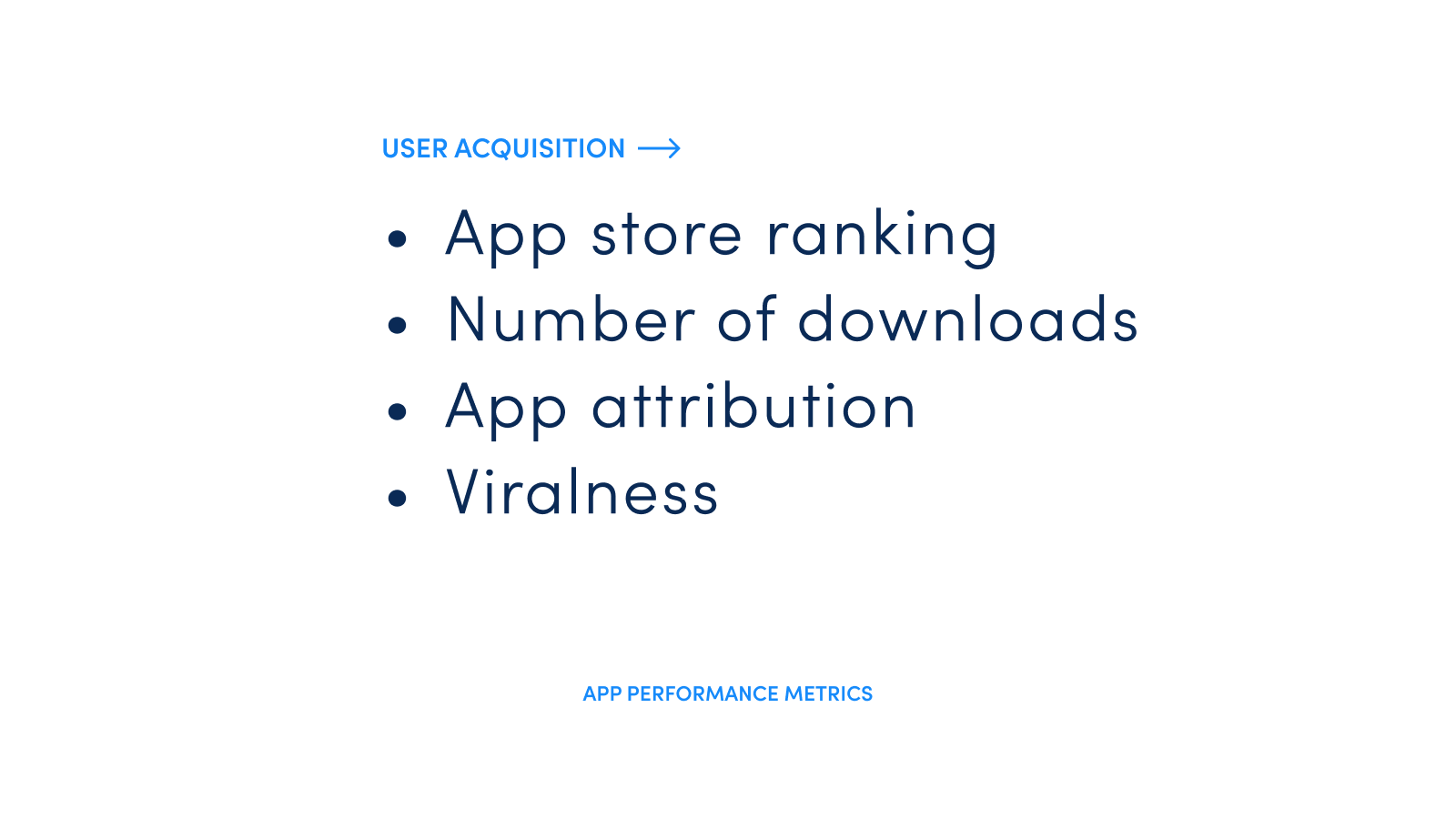 App performance metrics related to user acquisition provide valuable insight to help you focus your marketing budget and tap into new customer bases. Acquisition metrics range from app store rankings to insights on how users became aware of your app. Services like data.ai, APPLyzer, and Adjust can help you monitor app acquisition metrics.
App Store Ranking
A primary acquisition metric is app store ranking. Ranking refers to the visibility of an app when a user searches for it in the app store. A high ranking means an app appears within the top search results. App ranking is increased through optimized keywords, positive user reviews, and regular updates. Ranking matters most for iOS apps because Apple uses a search algorithm that places higher-ranked apps first.
Number of Downloads
Number of downloads represents another critical acquisition metric. This measurement links directly with the extent of app reach. As it sounds, the number of downloads tracks how many mobile app users install an app onto their device. Low numbers of installations could mean that marketing campaigns need to be further tailored or that the app could use an upgrade.
App Attribution
It's also helpful to track the sources that lead users to discover your app, a metric called app attribution. Attribution provides a glimpse at the success of marketing efforts by enabling you to know what sites or promotions generated higher click-through rates and downloads.
Viralness
One additional metric we like, viralness, reveals the number of new users brought in by a typical current user. This is a handy metric for many social consumer apps. You have a lower cost per acquisition if you gather new users from viral sharing rather than through direct marketing. Viral acquisitions also tend to engage more because they interact with friends and family vested in the app. In-app promotions that reward current users for referrals can help increase viral reach.
App Performance Metrics for User Engagement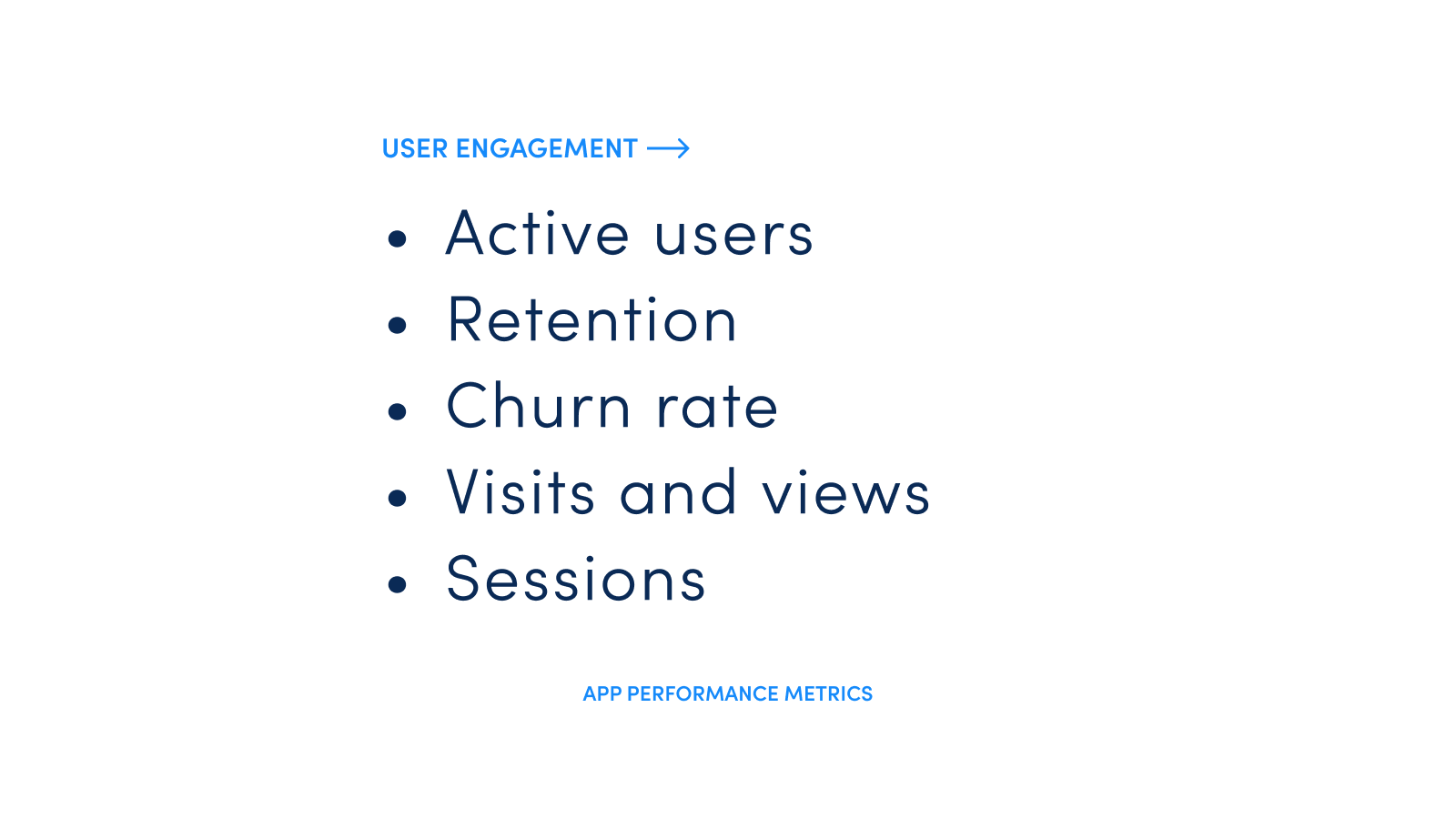 User engagement metrics measure the value customers get when using an app. These performance metrics are worth tracking for most types of apps. The data provides information about the activity level of consumers and flags potential pain points. Tracking user engagement metrics can help developers view user behavior patterns and improve an app's usability. Tools to track user engagement metrics include Google Analytics, Mixpanel, and Firebase.
Active Users
Time factors heavily into user engagement and helps measure customers' activity levels. Metrics for user engagement include daily, weekly, and monthly active users (DAU, WAU, MAU), which gauge the number of users within a time period. "Active" can mean anything from opening the app to posting and engaging with content. However, app experts tend to look at the DAU ratio to MAU ("stickiness") rather than the individual metrics. This ratio shows the number of days in a month that users return to the app and provides a more accurate look at active users.
Retention Rate
Retention, one of the most important app performance metrics, shows how many users return to the app at least one time. The metric is often evaluated at 30, 60, and 90 days. While good retention rates vary by industry, it's obvious that the higher the number, the better. It's a strong indicator that users value the app. In another post, we discuss how to keep users engaged with your app.
Churn Rate
Churn rate offers the opposite performance metric to retention: the percentage of discontinued users. Understanding when users churn in the lifecycle is critical to addressing potential engagement problems. If users churn soon after installation, the app might have technical problems like frequent crashes, an unfixed bug, or other application errors. Losing long-term users can indicate that the app provides only short-term value or doesn't meet expectations.
Visits & Views
Both average visit time and screen views per visit are also useful application metrics to evaluate end-user experience. Average visit time shows how long users engage with the app in one visit, while screen views per visit records the number of screens clicked in a session.
Sessions
Session length is a good indicator of your app's engagement. Generally, the more time a user spends on the app, the better, but you may also want to look at session length in terms of the number of app crashes and uninstalls and see if there is a correlation. Session depth reveals how far along the user path someone travels before closing the app; for example, going from browsing to making an app purchase may correlate with greater session depth than logging in to check for content updates. Likewise, app session interval, which measures the period of time between two consecutive sessions, offers additional insight, enabling you to measure how attached users are to your app.
App Performance Metrics for Customer Satisfaction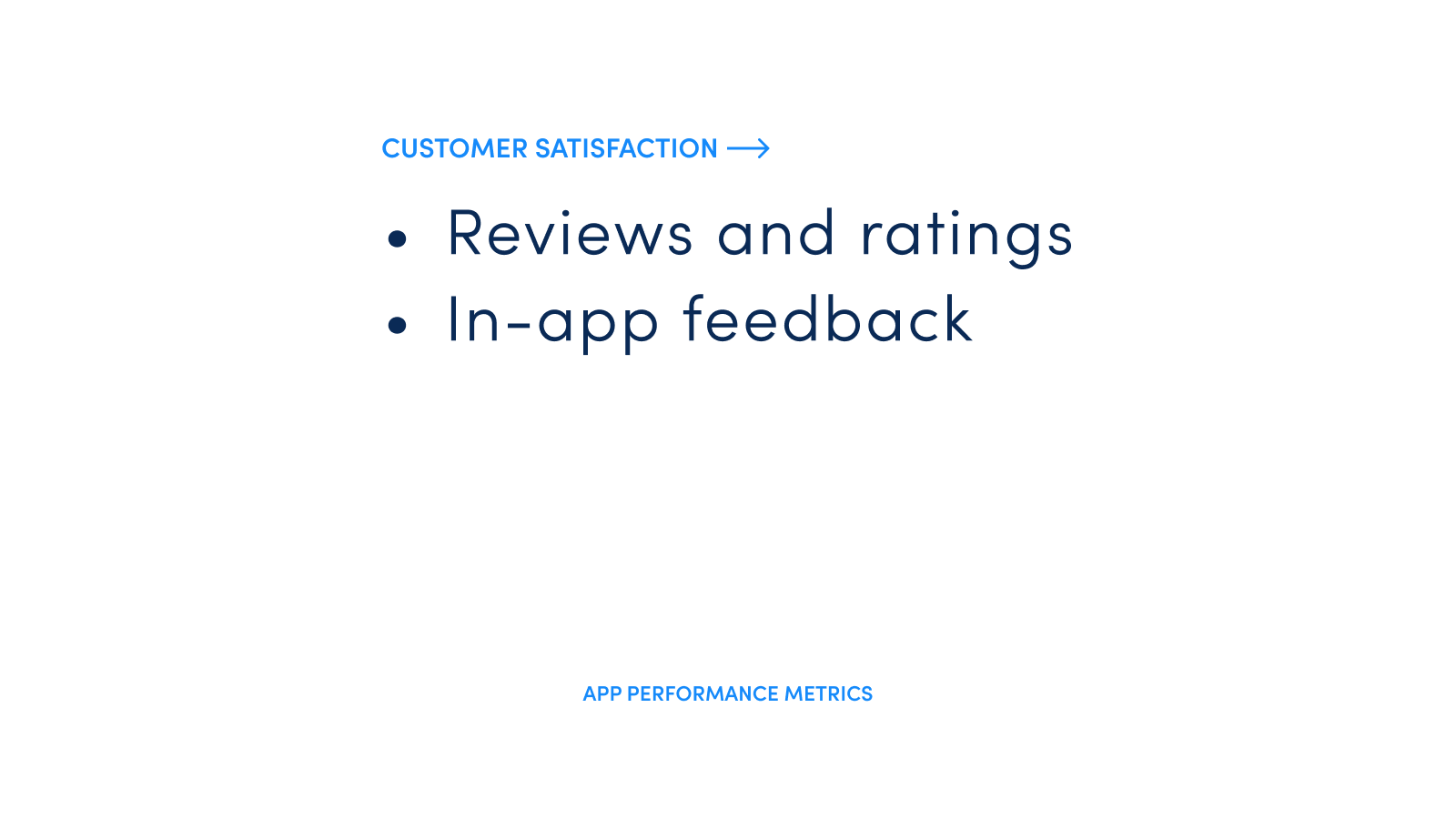 The final category of app performance metrics deals with customer satisfaction, which shows consumer preferences and expectations. User satisfaction metrics include user ratings and reviews, in-app feedback, and satisfaction surveys. Examining these metrics can provide a deeper understanding of what customers want from your app and allow app developers to hone features and in-app support to better meet user needs. Appbot, appFigures, and Lookback all provide app metrics on customer satisfaction.
Reviews & Ratings
Reviews and ratings can provide incredible, actionable insights to your business about what additional features and improvements would be valuable. They also have significant power to influence acquisition. App store reviews affect app store ranking, so maintaining a positive score improves the visibility of an app. According to Apptentive's "Mobile App Ratings and Reviews" guide, peer recommendations in the form of app store ratings and reviews stand alone as the single greatest driver of discovery and conversion.
In-App Feedback
Collecting in-app feedback about bugs and usability problems can often help avert negative public posts by allowing you to quickly fix any issues. Feedback can be gathered via chat systems, email contact forms, and surveys. In-app feedback reaches customers actively using the app and requires no outside windows or web browsers, streamlining the process for users. A particular type of in-app feedback, rating metrics, can complement customer reviews. If an app user provides a positive rating, you can prompt them to leave an app store review, helping your ranking.
Final Thoughts
These highlighted app performance metrics only scratch the surface of the quantitative and qualitative data you can gather about an app. With the overwhelming number of mobile app metrics you can track, picking and choosing the critical metrics for your app can prove challenging. Please contact us today if you want to learn more about what metrics will deliver the most relevant information about your app.
Download our free eBook
InspiringApps: A Business Perspective on Building Mobile Apps was written to help you evaluate ideas and turn the best ones into a genuinely successful app for use within your company or for consumer sale.