Unlock the Possibilities of Apple's Custom Product Pages
2 months ago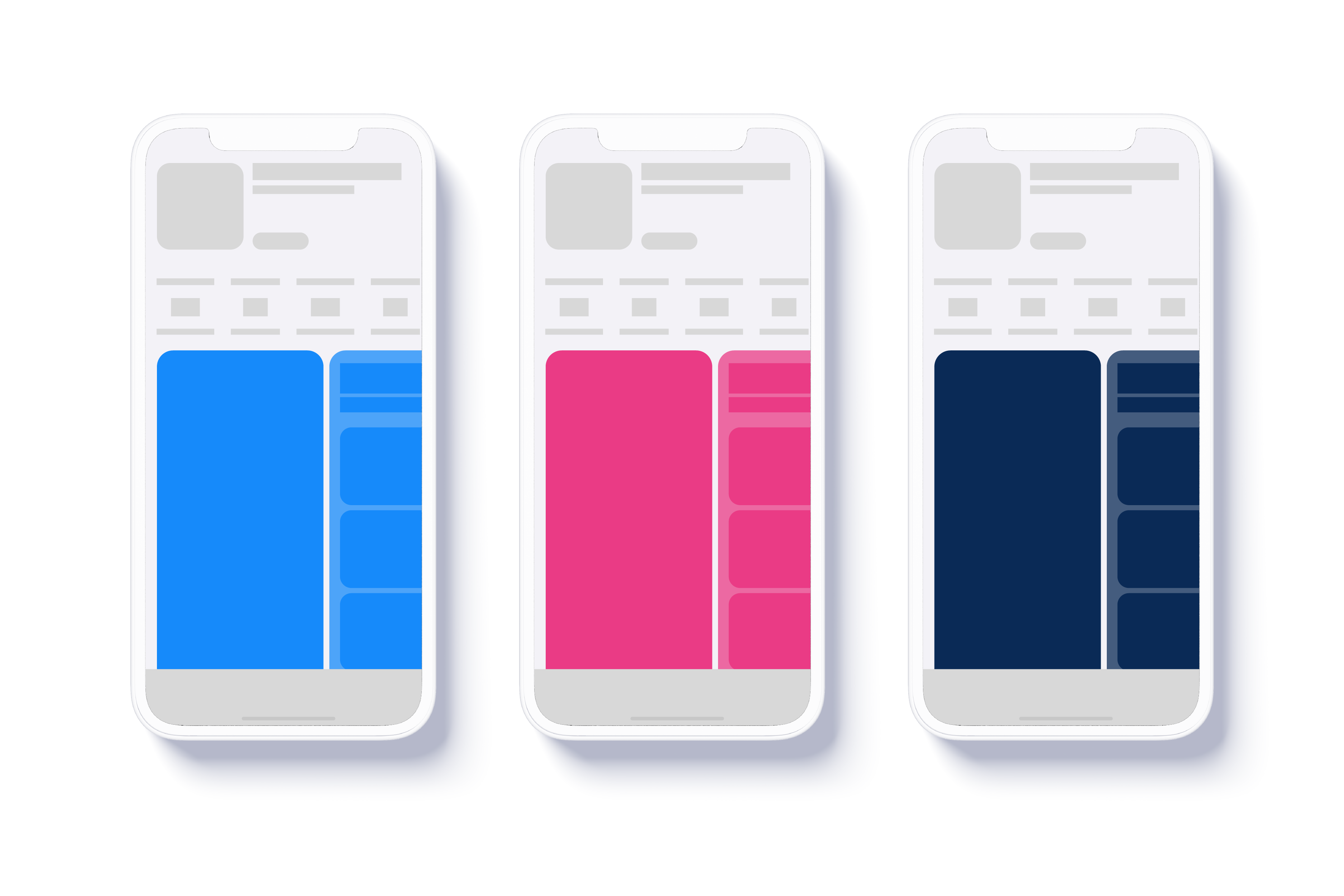 There's a feature in the Apple mobile ecosystem that can dramatically enhance how you market your app.
Custom product pages allow you to segment your digital products in ways that will increase conversions and revenue. You can tailor your landing pages and create custom search ad campaigns that match customer demographics.
The App Store hosts over 2 million apps, and users have short attention spans. Employing custom product pages can ensure a uniform and uninterrupted journey for users throughout their acquisition experience—from Apple Search Ads to the App Store. With the right approach, custom product pages can be a game-changer for your app's success.
How can you get the most out of custom product pages with a new or existing app? If you aren't currently using custom product pages, now is a great time to implement them to gain an edge over your competition. Beyond user targeting, you can promote a seasonal event, showcase culturally relevant content, and more.
What are Apple custom product pages (CPPs)?
Every app on the App Store has a product page, also known as an app store listing. Beyond this main page, Apple's custom product pages enable you to customize the look and feel of your Apple product for specific audience segments, keywords, or promotions.
With Apple's custom product pages, you can design up to 35 different versions of your app's store listing. You can use these variations to optimize search ad campaigns and promote unique listings through shareable URLs.
Key Features
Customization: You can change ‌three assets on the variations of your product page: screenshots, app previews, and promotional text.
Discoverability: You can optimize each page using specific keywords for search and messaging that expands your reach.
Localizability: You can use different languages, so custom pages reach audiences in multiple countries.
Control: You can use the App Store Connect API to make changes across multiple custom pages simultaneously.
Android vs. iOS
Apple has always been known for its strict control over the user experience of iOS apps. Apple custom product pages enable greater control and creativity to market your app. While Google's Play Store provides more flexibility through its custom store listings, Apple is catching up with custom product pages.
Here, we're focusing on Apple's feature set, but the benefits and best practices apply across platforms.
Benefits of Custom Product Pages
Improved App Marketing Metrics
Custom product pages are crucial in conversion rate optimization (CRO) and app store optimization (ASO). Custom pages can help you to:
Increase CRO: By tailoring your messaging and visual design to your target audience, you'll increase the likelihood that users will download your app.
Improve ASO: Multiple versions of your store listing can capture more promotional traffic and improve keyword and engagement metrics.
With the right strategy, customer product pages can significantly boost user acquisition and marketing ROI.
Targeted Search Ads
Custom product pages in Apple's App Store and Search Ads allow for different ad variations and strategic campaigns targeting different types of users. These features help potential customers better understand the app before downloading it.
For instance, the app Mountain Climber can run separate ads targeting cyclists, hikers, and rock climbing enthusiasts. Based on the URL clicked, those ads drive potential users to three tailored custom product pages for the same app. You're increasing the chances of app conversions by corresponding the custom App Store page with the ad creative that attracted the customer in the first place.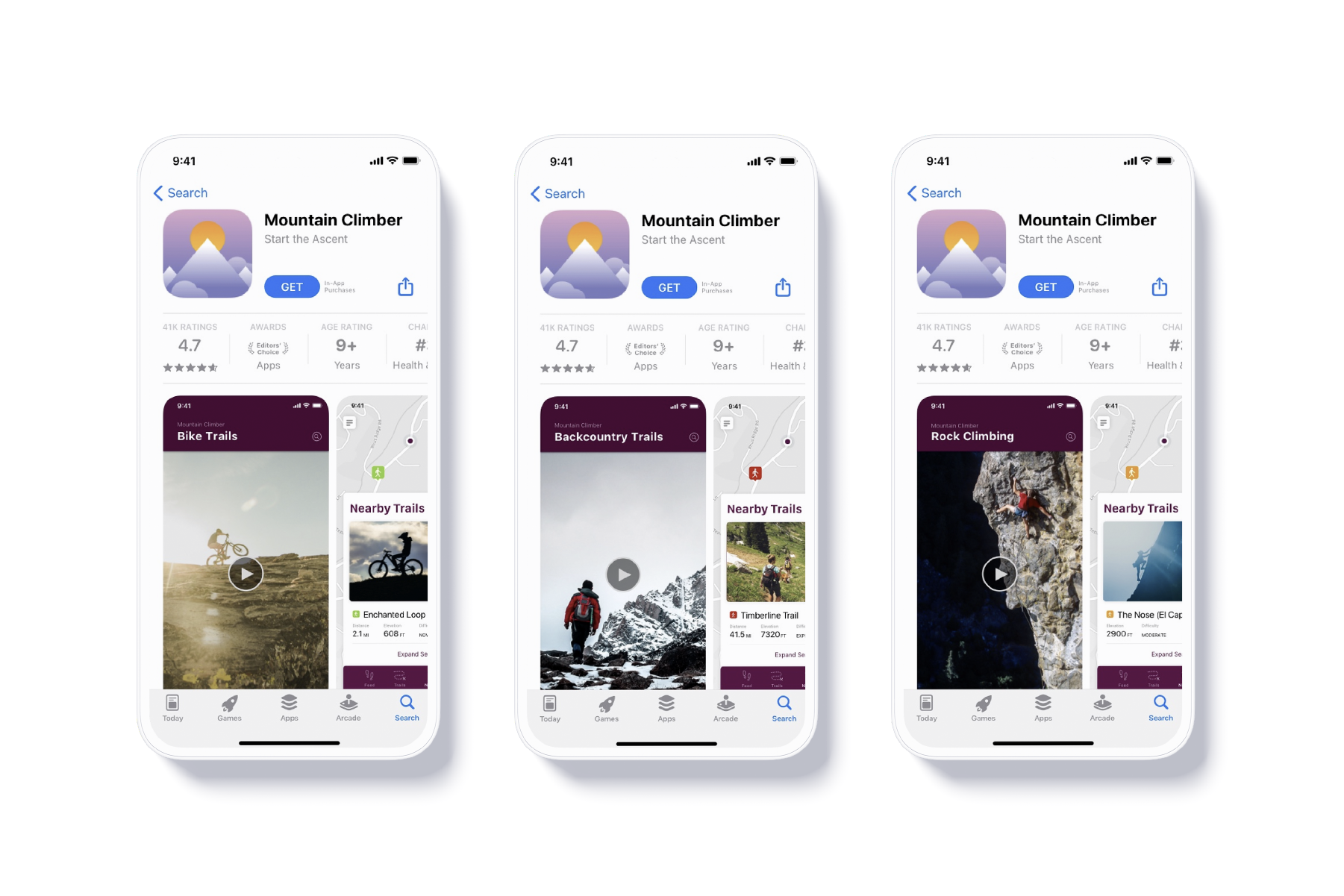 Tailored Testing
It's important to note that custom product pages won't appear in organic search results on the App Store. Of course, the organic experience is still important, and you can improve it using Apple features for testing tailored to your marketing goals.
Split Testing Through Product Optimization
Using Apple's product page optimization feature, you can perform split tests on up to three distinct "treatments" of your default page. However, the elements you can adjust are limited to visuals—app icon, preview video, and screenshots. After determining the most successful treatment, you can apply it to your app's default page, ensuring all users receive the most impactful organic search result.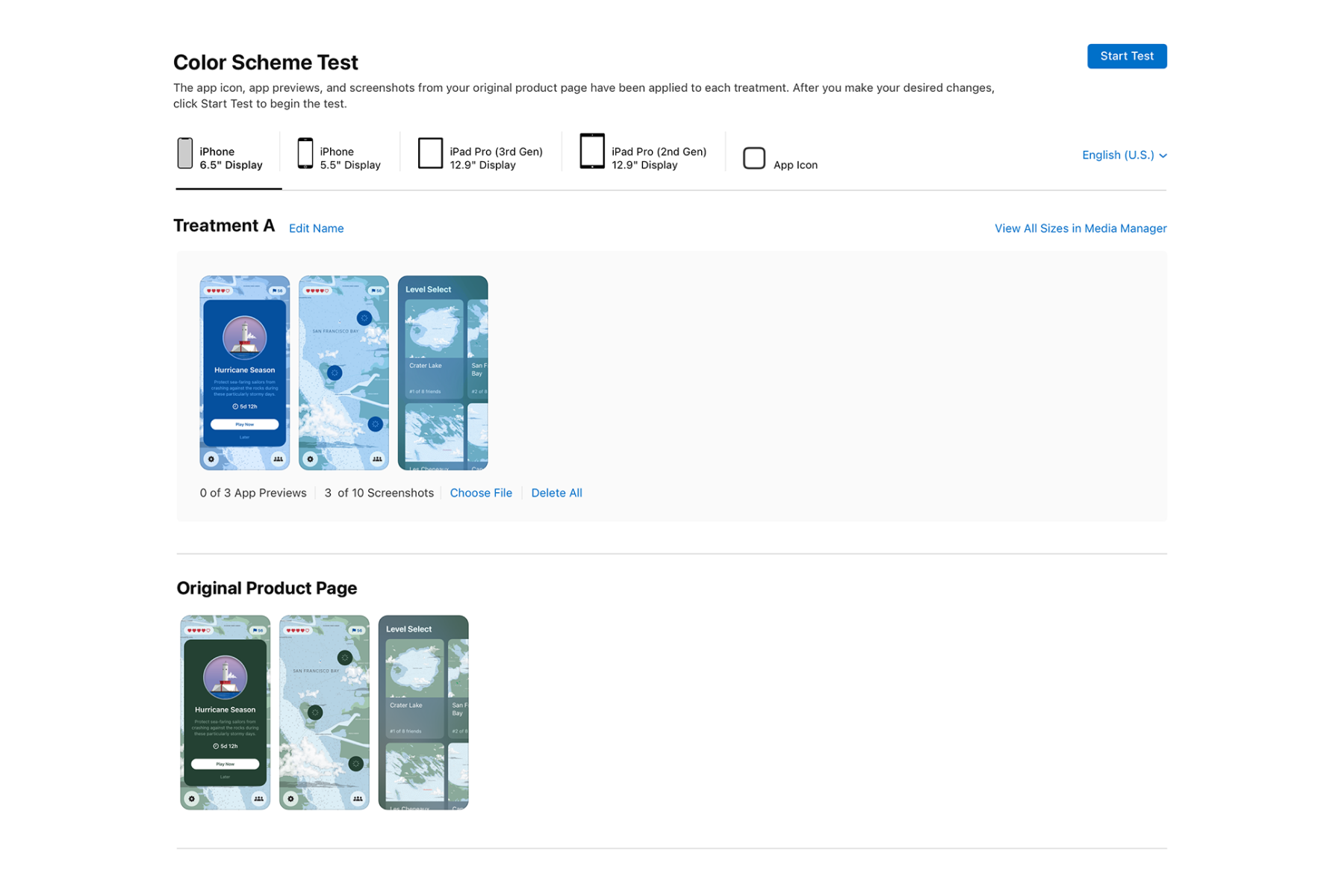 Variable Testing With Custom Pages
While Apple's split testing tool for product page optimization has benefits, custom product pages may offer a more reliable approach to testing theories about your app page. By designing multiple custom pages with unique designs or copy, you can evaluate which version performs better in engagement metrics, conversion rates, and return on investment. You can then apply those learnings to improve your organic default page.
Creating a Custom Apple Product Page
Apple provides a detailed technical guide when you are ready to configure your product pages. Before taking that leap, consider the following insights to guide your efforts to success.
Identify Your Target Audiences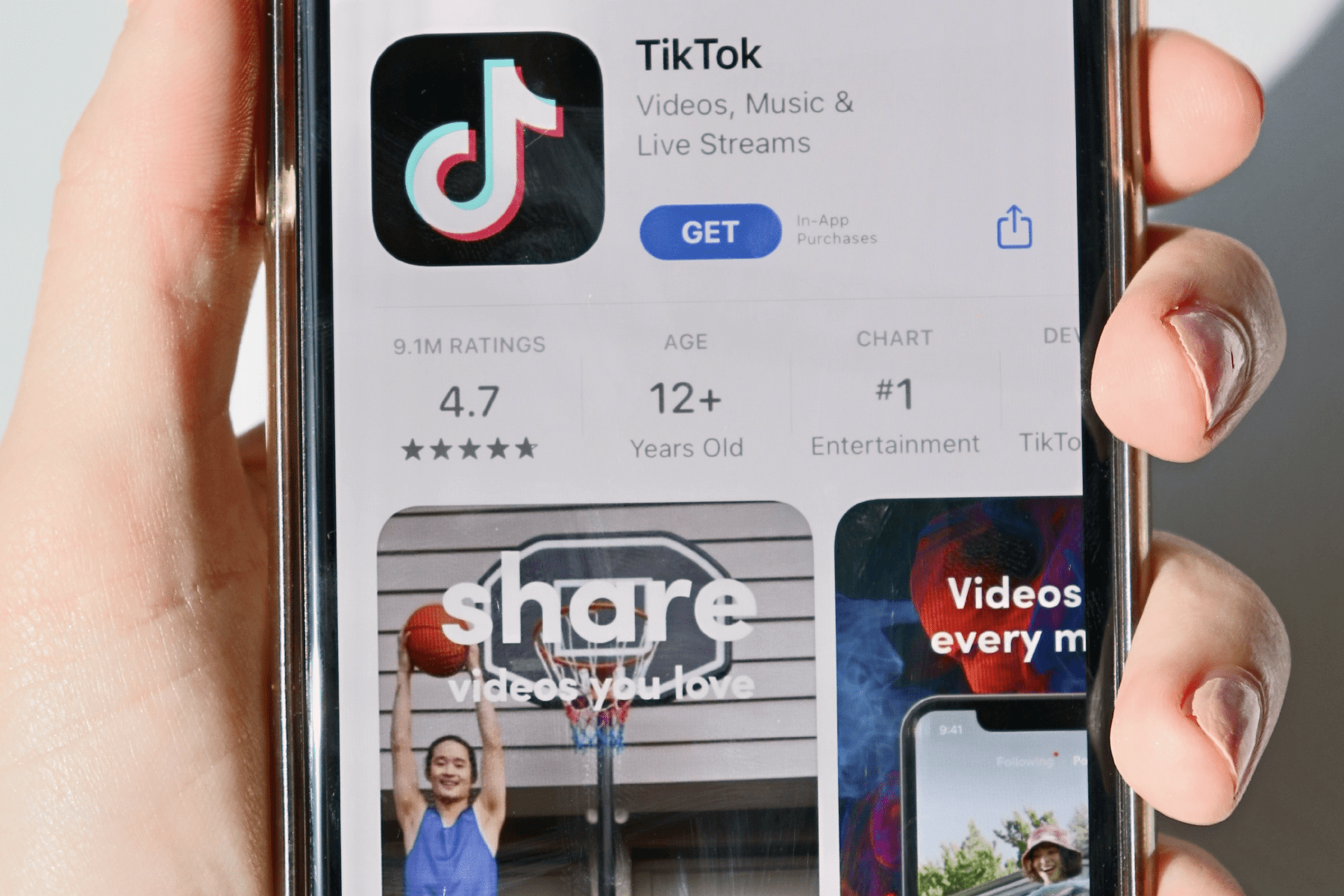 Designing effective pages that resonate with multiple target audiences requires a deep understanding of each audience's specific needs and preferences.
For example, a TikTok user's preferences will vary based on specific demographics like age. You'll want to learn those preferences in depth to get the most out of any customized versions of these landing pages.
Before embarking on a custom product page project, researching your target audiences is an obvious first step. You can effectively focus your efforts where they'll have the most impact through user surveys, testing, and analysis.
Surveys
User surveys can help you gather feedback and insights from your target audience on their needs, preferences, and pain points. You can use online survey tools like SurveyMonkey or Google Forms to create and distribute surveys to your target audience.
Testing
User testing involves observing users as they interact with your app to identify areas of improvement and gather feedback. You can use remote user testing tools like UserTesting or Userlytics to conduct user testing sessions with your target audience.
Analysis
App Store analytics can provide valuable insights into your target audience's behavior and preferences. By analyzing App Store data such as user reviews, ratings, and search queries, you can better understand your audience's needs and preferences.
Impact
Creating multiple versions of your app page can be time-consuming and may require additional resources. Consider focusing your efforts on your most valuable audience segments, where you can maximize the impact of your custom product pages while minimizing the resources required to create them.
Choose Strategic App Previews & Screenshots
The key benefit of custom product pages is the ability to segment what each user sees when they preview your app. Here are some tips to choose assets that will attract and convert your target user.
Emphasize features: Use your media to highlight your app's key features and benefits. Targeted images and videos can catch the attention of different user segments.
Keep it concise: Use short video clips and images. Quickly and effectively communicate your app's target value proposition to each of your audiences.
For instance, let's consider a "Fitness Tracker" app targeting two user types: gym enthusiasts and busy professionals.
For the gym enthusiast audience, you can use app previews to show users how to set up and customize their workout plans, track their progress, and view their stats and achievements.
For the busy professional audience, you can use screenshots to showcase the app's meal planning and nutrition features.
For either audience, users can see firsthand how the app can help them achieve their fitness goals at first glance.
Provide Relevant Content & Keywords in Promotional Text
Content about your app and relevant keywords in the promotional text help you attract the right users and increase conversions.
For example, if you're developing three custom product pages for a healthcare app—one for patients, one for doctors and clinicians, and one for health organizations—here is how the promotional text and keywords might vary per page.
Custom Page for Patients
Promotional Text: Take control of your health with our intuitive healthcare app
Access personalized health information and track your progress
Connect with healthcare professionals and schedule appointments easily
Keywords: Healthcare app, personalized health information, track health progress, connect with healthcare professionals, schedule appointments
Custom Page for Doctors & Clinicians
Promotional Text: Streamline your practice with our advanced healthcare app
Efficiently manage patient records and appointments
Access medical resources and collaborate with colleagues
Keywords: Advanced healthcare app, practice management, patient records, appointments management, medical resources, collaboration tools for doctors
Custom Page for Health Organizations
Promotional Text: Transform your healthcare organization with our comprehensive app
Improve patient outcomes and streamline operations
Gain insights through data analytics and reporting tools
Keywords: Comprehensive healthcare app, patient outcomes, streamline operations, data analytics, reporting tools, health organization management
Measure & Optimize
After your customized product pages go live, you can gauge their effectiveness using App Analytics in App Store Connect. You can track product page impressions, downloads, re-downloads, and conversion rates to assess how well each page motivates app downloads. You can also measure retention and the average proceeds per paying user for each custom product page.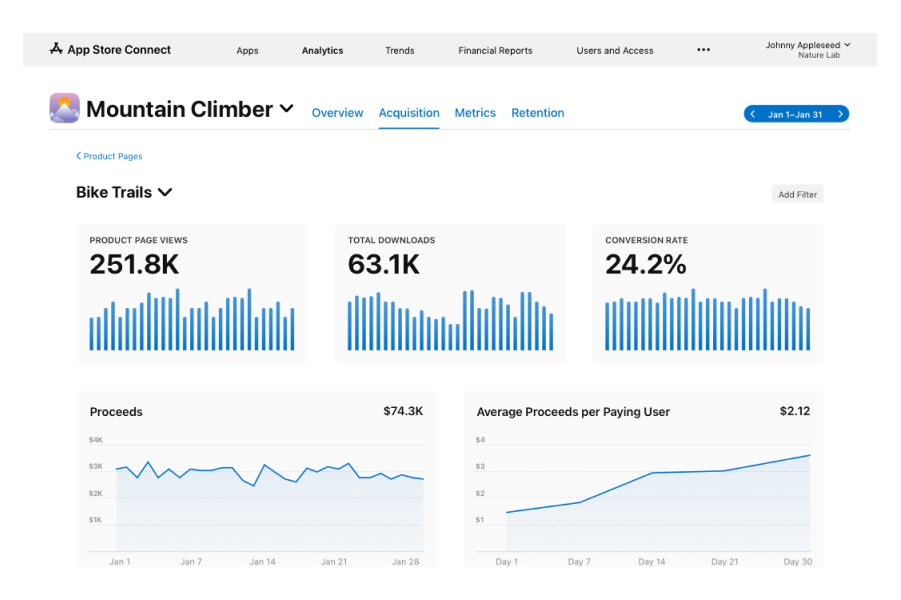 Another way to gain insights is to compare your custom product pages to your default. Doing so lets you determine whether users who downloaded your app through a custom product page tend to stay engaged longer or spend more on in-app purchases. This information can help you make informed decisions on how to optimize your app's marketing strategy.
Promoting Your Custom Product Page
Reach Broader Audiences With Distributed Campaigns
After developing a custom product page, you can share it through your promotional communications and marketing efforts with its distinct URL. Your app's marketing channels might include email marketing, social media, digital advertising, influencer programs, and promotions—the possibilities are endless.
For instance, an app that caters to sports enthusiasts might showcase the latest Superbowl champions in an email promotion and connect to the tailor-made product page that spotlights that team. The exclusive URL incorporates a new product page ID parameter into the standard product page URL.
Increase Impressions With Apple Search Ads
Apple Search Ads enable you to produce ad variations for App Store Today tabs and search results for eligible custom product pages. When you establish your ads campaign, you can customize your ad message and visuals for different audiences, product launches, or seasonal promotions.
Tailored product pages can greatly enhance the effectiveness of Apple Search Ads and thereby increase the ROI of your paid campaigns.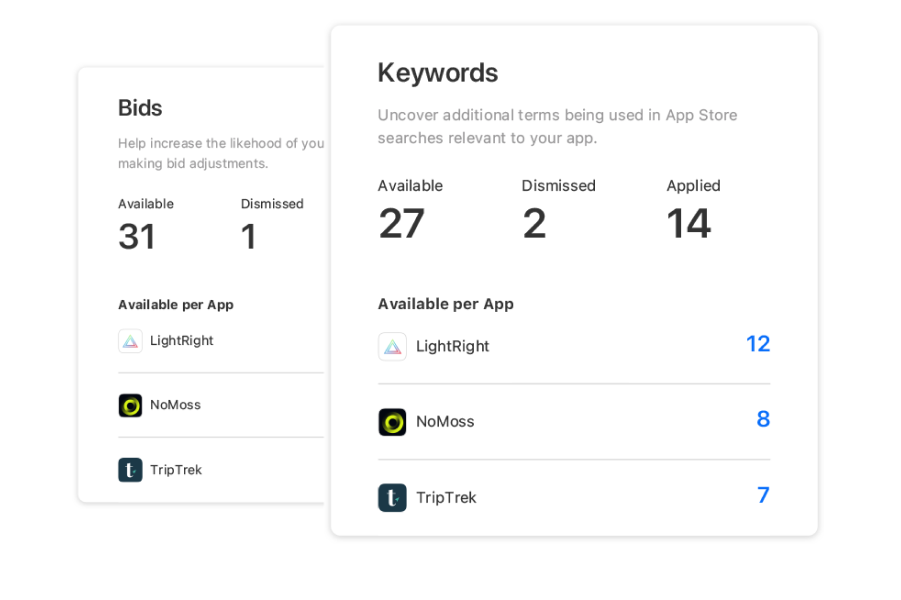 Giving users a more relevant and individualized experience boosts the conversion rate of keywords and reduces the cost per install. Ultimately, you'll obtain more downloads—while paying less for each.
Promote Events for Maximum Exposure
Certain seasons, holidays, and events present great opportunities for increasing downloads. To capitalize on these moments, you can create custom product pages that showcase them. These pages can be tailored to highlight relevant features, promotions, or content related to the specific occasion, making your app more appealing to visitors.
There has been a lot of excitement around in-app events, as well. Adding to the iOS marketing arsenal are these timely in-app experiences, such as challenges, competitions, or special content launches, featured on your product page. In-app events have unique promotional capabilities and App Store discoverability.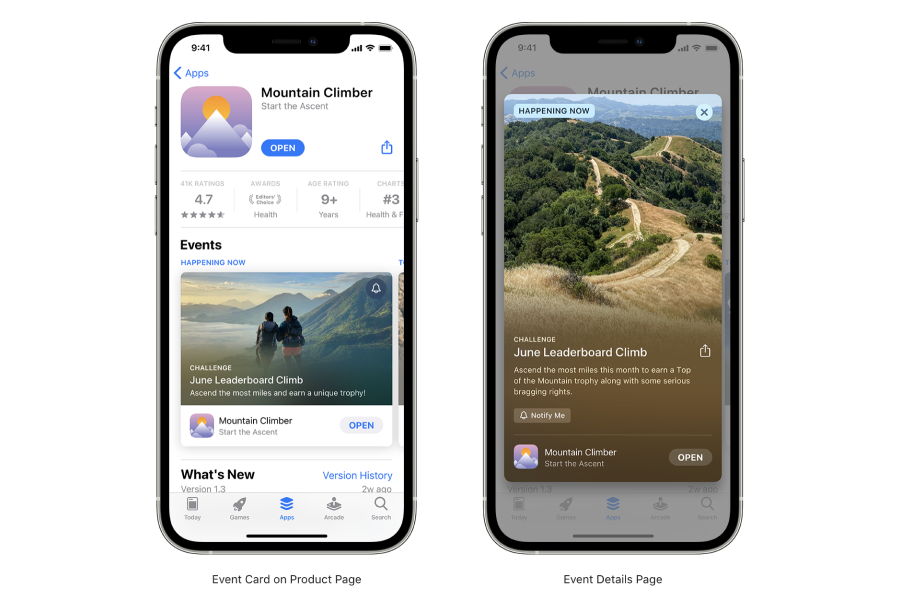 Notably, all visitors to the custom or default product page will see the same in-app events. Understanding the diverse needs and motivations of your target audience can help in tailoring your marketing approach accordingly.
These are just a few examples of how in-app events and custom product pages can be used together strategically:
Engage existing users: You can re-engage existing customers through a pairing that piques their interest and encourages further engagement. For example, a user-targeted custom product page alongside an in-app event challenge.
Attract new users: You can target an untapped demographic by marketing specific promotions that expand reach. For example, a seasonal custom product page alongside a special in-app event featuring new holiday releases.
Whether for seasonal promotions alone or combined with in-app events, the specific implementation of custom product pages is in your hands. It's important to adapt to your unique business context, promotional timelines, creative assets, and advertising approach to ensure success.
Final Thoughts
Improving Conversion Rates With Custom Product Pages
Custom product pages offer powerful freedom and flexibility, allowing you to segment your digital products in ways that boost conversions and increase revenue. You can use custom product pages to engage with users at any level and tailor your approach to your specific marketing goals.
With the fast-paced and competitive app landscape, innovating and adapting are crucial. By embracing the power of custom product pages, you can stand out from the crowd, captivate your target audience, and achieve significant growth for your app.
List of Additional Resources
Download our free development guide
In How to Design Digital Products for Every Generation, we share practical takeaways for any company looking to create a successful digital product—with audience strategy on designing for each generation and designing for all.