Developing Apps for Generation Z
3 months ago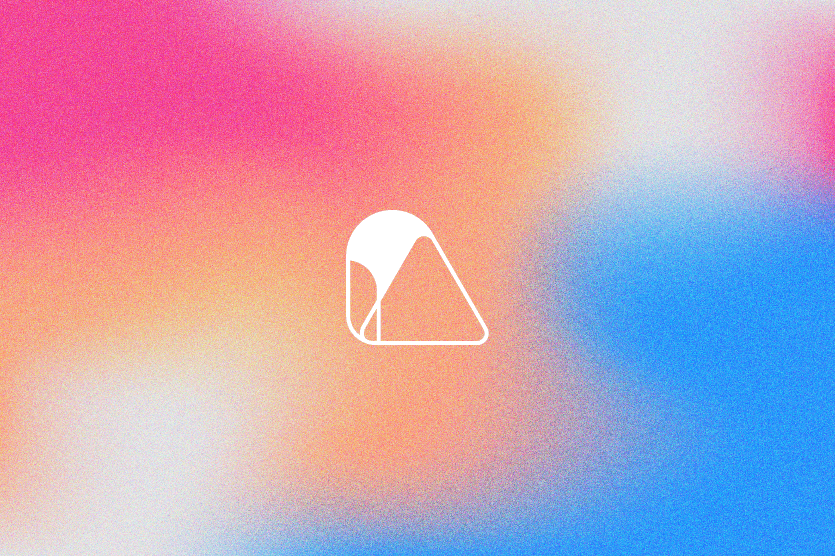 Generation Z is a brilliant and forward-thinking generation making a progressive transformation in the world as we know it. Following behind Millennials, they are heavily immersed in the technical landscape and are highly app savvy. They were born into a world of expansion and innovation with creations like the Apple iPhone and Facebook.
Having grown up with the ability to access knowledge at the tap of their fingertips, they're educated individuals with great entrepreneurial goals. They expect companies to anticipate their needs and will move on when they don't deliver. They're looking for flawless app design, fast iterations, responsible data collection, creative outlets, and more.
Some Facts About Generation Z
Born between 1997 and 2012, they're in the era of self-discovery. Since their youth, Gen Z parents have been navigating the rise of technology and the online privacy issues that come with it; for Gen Z, finding their true selves is no easy task. Due to their immense media consumption, they expect instant gratification and high-speed delivery.
As the "mobile generation," 96% of Gen Zers are reported to own a cellphone—many spend 10 hours plus connected online. They frequent social platforms like Instagram, Youtube, TikTok, Twitch, Snapchat, Pinterest, Reddit, and other platforms. Gen Zers gravitate to mobile banking apps to serve their financial needs and streamline their tasks. Consequently, email is slowly dying out among this community of users. Generation Z interacts with apps in their lives as a means of communication, to fill a need in their life, and for play and creative expression.
They are true digital natives and are hyper-connected to the world around them—making them increasingly self-aware and emotionally reflective. Generation Z also reports high rates of anxiety, depression, and mental challenges—more so than in past generations. Experiencing a global pandemic has only exasperated their mental health struggles. Consequently, prioritizing and addressing mental health is of great importance.
Take Oye—a creative wellness app created by singer J Balvin "to make the world feel better." It's an app to transform your emotions into creative actions with mind-body practices, daily emotional check-in tools, personalized goal setting, and mindful notifications.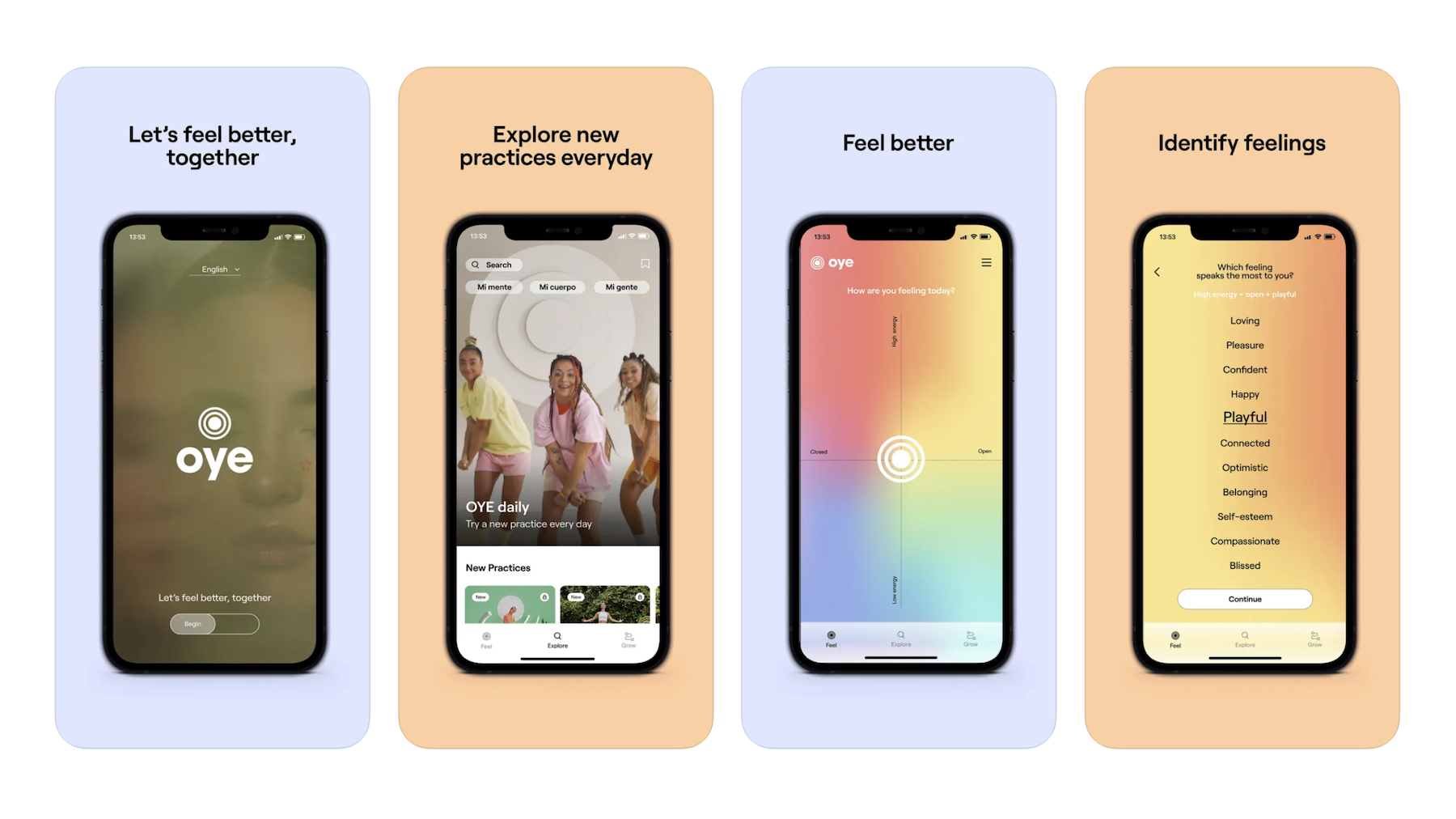 Gen Z has proven to be catalyzed citizens who want to make a difference through social responsibility. Their innate understanding of the power of social networks and their regular consumption of news and information has allowed Gen Z to move past the era of Millennial armchair activism. While navigating life in today's world, Gen Z confidently prioritizes experiences over objects.
Considerations in App Development for Generation Z
The Generation Z cohort is a significant target for app developers. Being born and raised in the digital age, they are always looking for novel tech to explore.
Generation Z represents much larger historical forces at play, driving progressive transformation in the workplace that will redefine the entire generational experience. As a result, this generation has experienced increased globalization, technological advancements, and a fast-paced influx of information.
Generation Z is changing the way we build digital experiences. Generation Z is the first generation to merge the digital and physical worlds into one experience. They view the internet as more than just a transaction and instead see it as a human experience.
What that means for development is creating intuitive experiences that Gen Zers will love—innovative, straightforward, and seamless.
With this information in mind, we've identified vital considerations to keep in mind when developing digital products for Generation Z.
What Gen Z Consumers Want in An App
Obsessively Tested, Flawless Design
Gen Zers value efficiency and flawless design. That is why thorough testing and gaining user feedback are paramount. Be sure to ask for feedback from this generation and integrate the user input throughout your app's development process and in updates.
"If the designer doesn't remove themself and try to see the user's perspective, they can overly complicate the journey."

AARON LEA, ART DIRECTOR AT INSPIRINGAPPS, BOULDER CO
Glitchy user interface behaviors and poor design choices are instant turnoffs for Gen Zers. Make your app seamless and flawless from the start, or you may lose your customer. Build your app with swift and straightforward interactions, and don't reinvent the wheel for every feature within your product—draw inspiration from apps that are already working. By sticking with best practices and standard features and anticipating your users' desires, your users will navigate more intuitively and stick around for more.
Fast Iterations
Gen Z consumers have grown up in a fast-paced digital world and value convenience and efficiency. They prefer mobile apps that offer quick and uninterrupted experiences, such as fast loading times, easy checkout processes, and streamlined workflows. Keep your app low on data—fast to download and delete.
Control Over Their Digital Footprint
Gen Zers quickly went from a private world to everything constantly being shared online. In their formative years, they grew up with little technology at their disposal. They were thrust into a world of hyper-technology and interconnectedness as time progressed.
With that in mind, here are essential factors to keep at the forefront of your app development:
Privacy Settings
Gen Z should be able to manage their privacy settings on apps. This type of functionality includes having the ability to choose whether their information is shared publicly or only with specific individuals and having the option to limit the usage of their personal data.
Data Transparency
Gen Z should have clear access and information about what data is collected, how it's used, and to whom it gets shared.
Responsible Data Collection
It's essential to ensure that Gen Zers' personal data is protected from data breaches and cyber threats. Apps should implement robust security practices to keep user data safe.
Value-Add Through Personalization
You can add value with personalization by using various technologies, such as saving login information, geolocation, machine learning, and AI, to cater to the specific needs of Gen Z. It is crucial to find a proper balance in incorporating personalization that genuinely adds value, without overdoing it. Here are a few core components to adding value through personalization:
Saving Login Information
Gen Z is all about convenience, and one way to provide that is by saving their login information. By doing so, you not only save them time but also provide a straightforward user journey.
Geolocation
Gen Z consumers are constantly on the go and expect a personalized experience based on their location. Using geolocation technology, you can offer tailored recommendations, promotions, and content based on their location.
Machine Learning & AI
If you want to better understand your Gen Z customers, machine learning can be a potent tool. By analyzing their data, you can personalize their experience and provide the results they seek—before they even ask. AI and machine learning are great tools for automating manual tasks as well.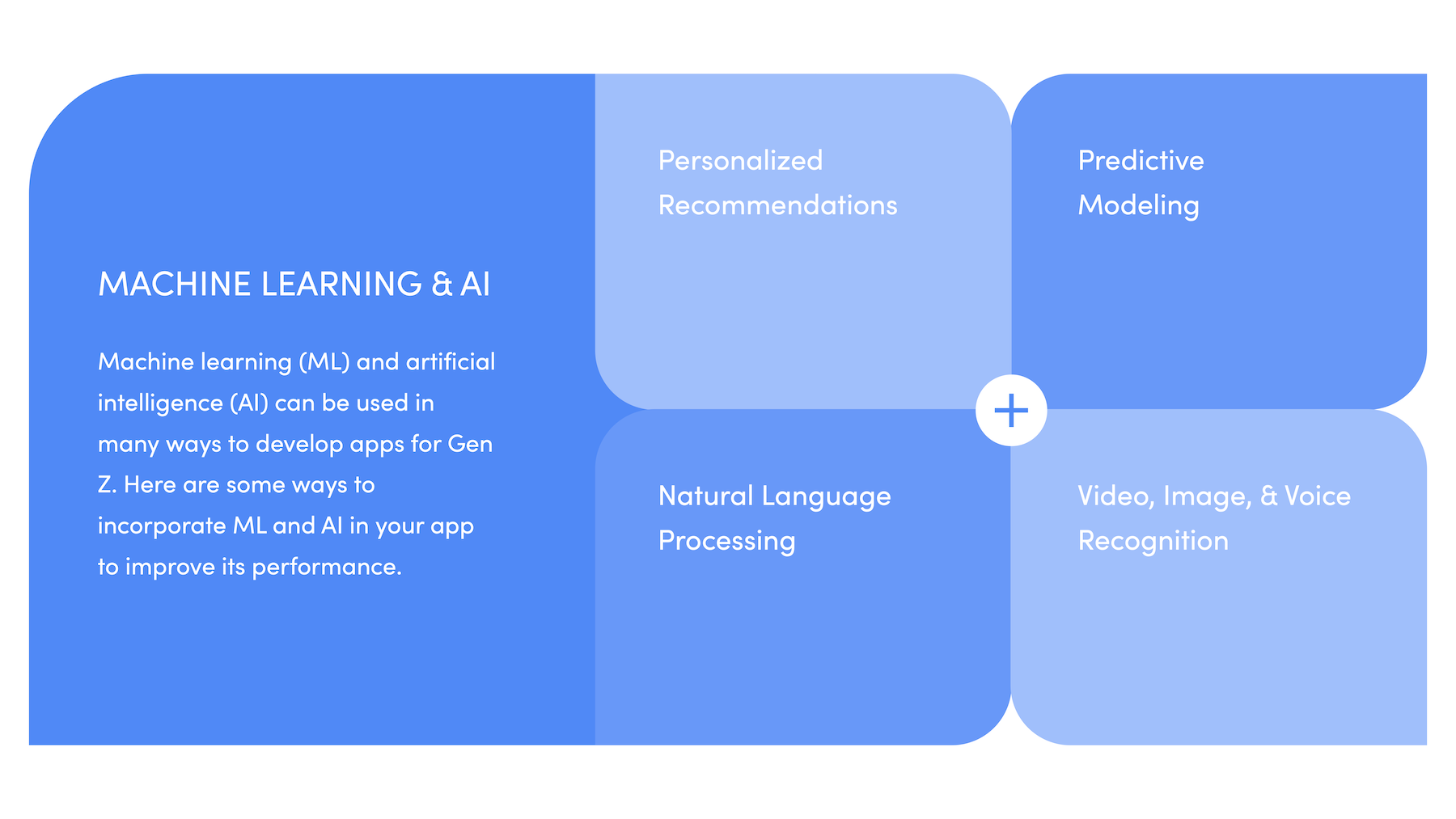 Machine learning (ML) and artificial intelligence (AI) can be used in many ways to develop apps for Gen Z. Here are some ways to incorporate ML and AI in your app to improve its performance:
Personalized Recommendations: ML algorithms can provide customized recommendations to Gen Z users based on their interests, behaviors, and preferences.
Chatbots & Virtual Assistants: With natural language processing (NLP) techniques, it's now possible to create bots that can interact with Gen Z users in a way that feels just like talking to a real person. Bots can help users with tasks such as scheduling, finding information, or making purchases on their mobile devices.
Image & Video Recognition: Computer vision techniques can be used to recognize images and videos, which can be helpful in apps such as social media platforms, gaming, or e-commerce.
Predictive Modeling: Predictive modeling techniques can be used to forecast future behaviors and trends. For instance, a news app can predict which articles will be most popular among Gen Z users. Predictive modeling ensures your app stays ahead of the curve.
Voice Recognition: Voice recognition techniques can be used to develop voice-enabled apps and devices that can be controlled with voice commands. This technology can be helpful in apps such as virtual assistants, smart home devices, or hands-free gaming.
ML and AI can help app developers create more engaging, personalized, and interactive apps for Gen Z users. By leveraging these technologies, app developers can improve the user experience and stay ahead of the competition.
Creative Tools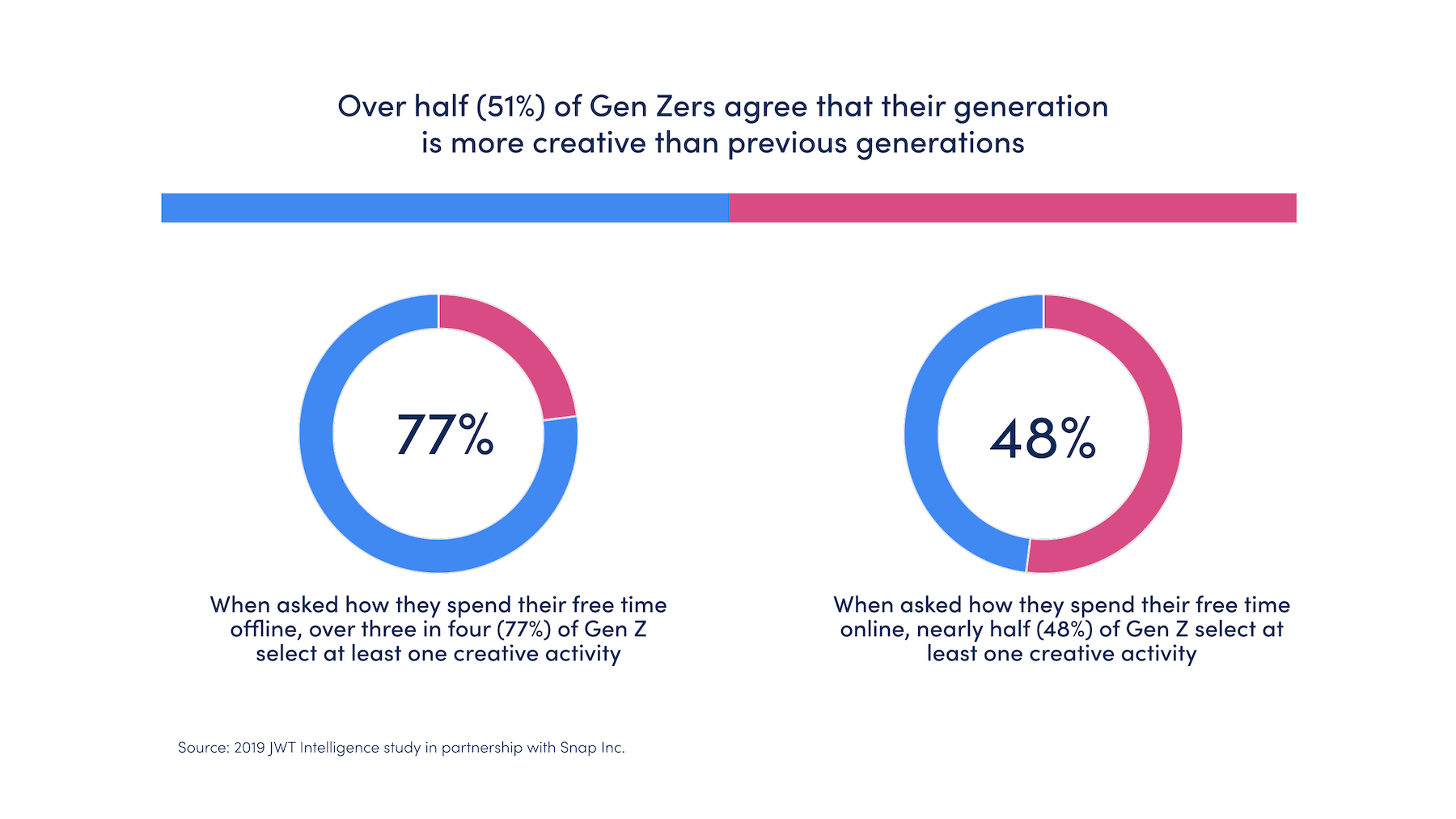 More than half of Gen Zers believe they are more creative than previous generations. Most of them engage in creative activities in their free time. Gen Z is a highly creative generation that values individuality and self-expression. Therefore, niche tools enabling creativity are essential for creating apps that resonate with them.
Concluding Thoughts on Developing Apps for Gen Z
Gen Zers have a unique vantage point when it comes to app development. They've experienced the best of both worlds—an era of privacy merged with hyper-connectedness. They are vicarious app consumers, making them ideal customers for app developers.
Brands that take the time to understand their Gen Z users' behaviors, motivations, preferences, and expectations will experience significant growth. Considering the above considerations, one can ensure that their app hits the mark with this brilliant and forward-thinking generation.
Gen Z wants more than just an app. They crave a unique experience that fulfills their daily needs and brings joy. The app should leave them feeling special and enhance their well-being.
At InspiringApps, we stay on the pulse and ahead of the curve to bring you the most forward-thinking and trending app development insights.
If you have any questions or thoughts on the above material—we'd be delighted to connect!
Download our free development guide
In How to Design Digital Products for Every Generation, we share practical takeaways for any company looking to create a successful digital product—with audience strategy on designing for each generation and designing for all.