Creating a Great Company Culture
7 months ago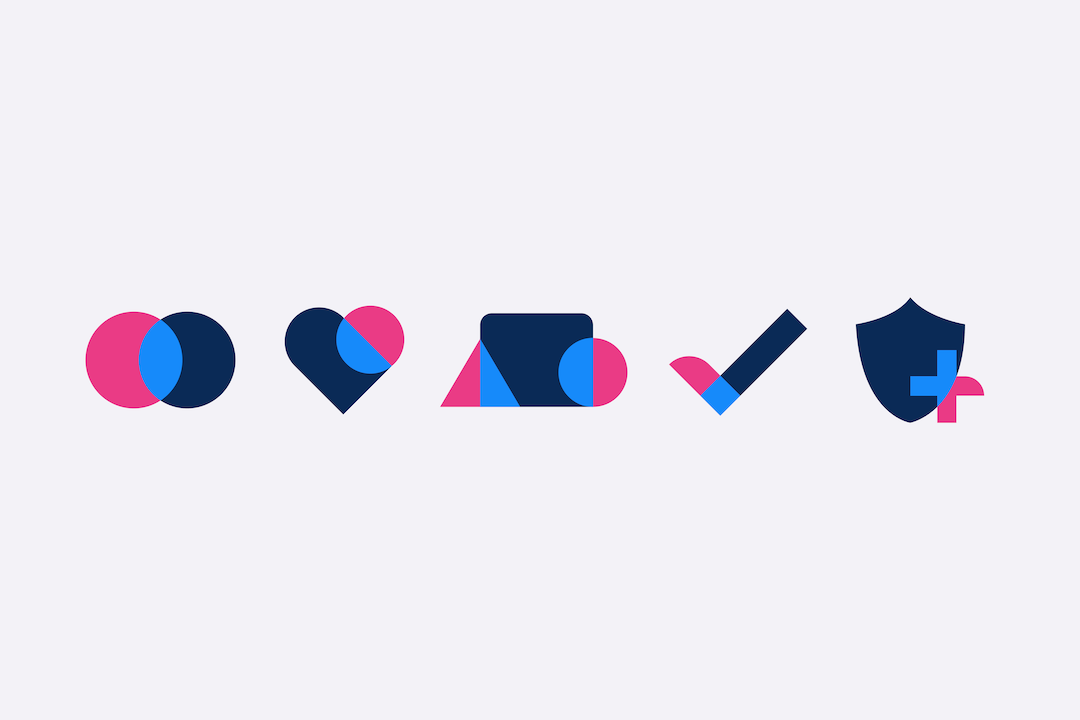 Culture is what we share; it's the values, goals, attitudes, and practices that make us who we are as an organization. A strong culture can give your company an advantage by fostering loyalty, creativity, and motivation. But what are the ingredients of positive company culture?
Each company has its own unique culture and way of crafting it. The best cultures dovetail perfectly: employees and leaders focus on the same mission and encourage rewards. Discovering the perfect combination, however, doesn't happen overnight.
This article shares our approach and recommendations to create an intentional company culture, offering insights and strategies that any company can apply to nurture a positive environment that leads to success.
What is intentional company culture?
Every company has a culture. While culture may form organically, consistent and intentional cultivation will result in greater success.
Intentional company culture combines organizational values and mission with the rewards of employment that come in four main styles:
Loyalty-based
Performance-based
Opportunity-based
Lifestyle-based
No style is better than the other; it's dependent on the company and the employees hired. For instance, if your staff prefers lifestyle-based culture (flexible work or other perks) over performance-based culture (raises and promotions for a job well done), the employees may stay dissatisfied and leave to find a company culture that suits their preference.
In InspiringApps' infancy, the personalities of the relatively few people involved drove our culture. But as the company grew, we were careful to emphasize the characteristics that fostered a positive work environment and eliminated any contrary to what we've come to value—empathy, inclusion, and personal growth for our employees.
Why do your employees need an intentional company culture?
A recent survey found that 79% of employees who left their jobs did so because of a lack of appreciation, and 50% said they were more motivated by appreciation than money. This sounds like a job for company culture!
In an ideal world, company culture and performance should work in tandem. Employees who are happy with their jobs have higher satisfaction rates. However, lousy work culture can hurt employees, bringing high turnover rates, burnout, and subpar work.
Creating an intentional company culture requires consistency and time. There is no shortcut.
Intentional company culture benefits from open minds. Influential leaders seek to:
Understand what employees appreciate and what causes them pain.
Hear employees' suggestions for improvement.
Follow through with promised changes.
Repeat the above frequently.
Intentional company culture requires commitment from everyone—especially the leadership team. InspiringApps understands this fundamental truth. An InspiringApps employee explains it best: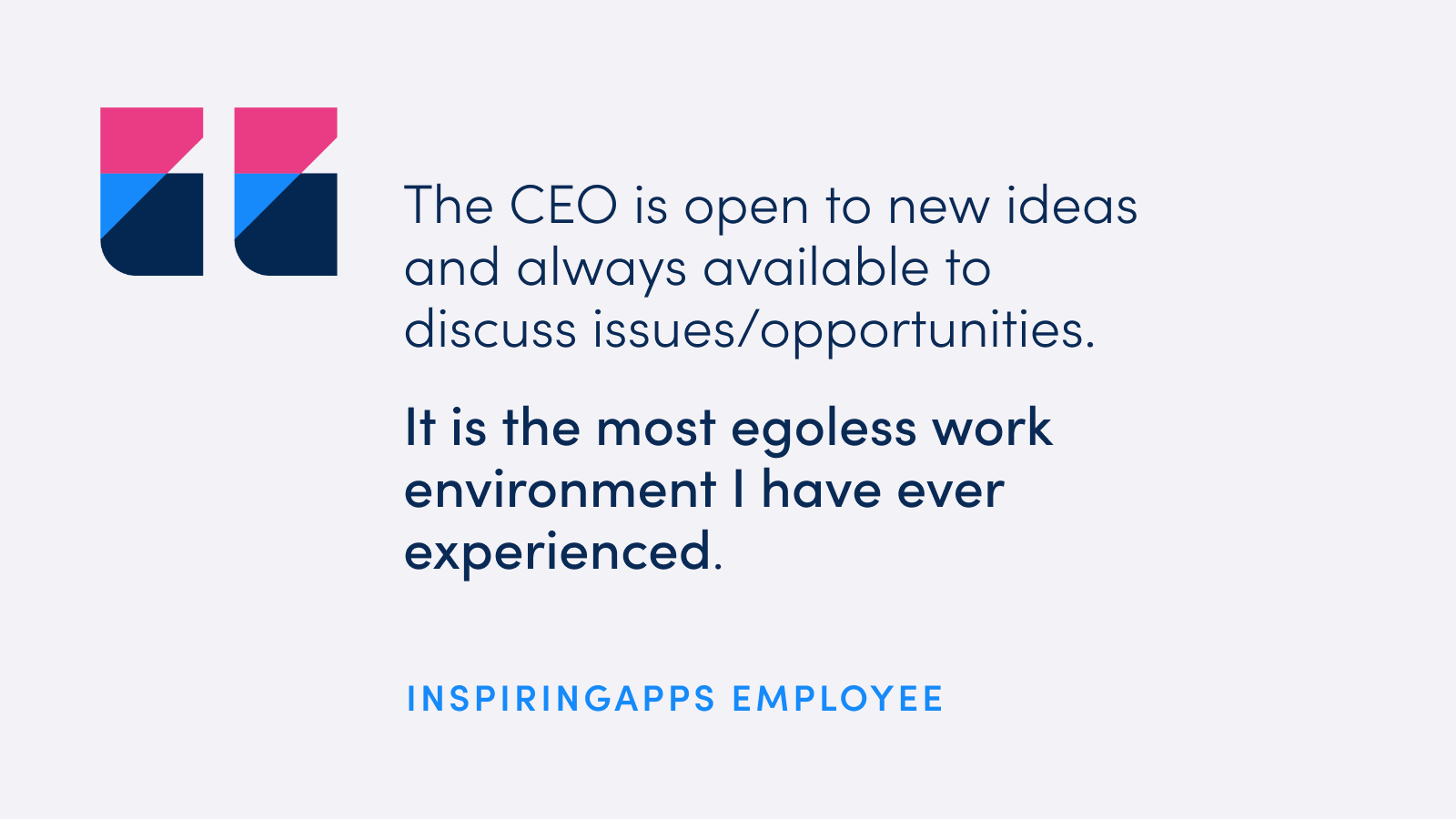 How To Develop & Maintain a Great Company Culture
Engaged employees are critical for business success. Experience is the best teacher, and we've learned plenty of lessons regarding things that keep our employees a happy part of the team. We built our culture slowly and methodically, and we're proud to celebrate strong retention, with over 40% of our staff staying with us for more than five years.
Among all the lessons we've learned, the following best practices stand apart from the rest:
Promote from within.
Offer excellent benefits.
Be inclusive.
Communicate consistently.
In the following sections, we discuss each best practice in detail and share our experiences to help every company develop and maintain a great culture.
Promote From Within
Today's employees are looking for a company with opportunities for career advancement and appreciate roles with a clear path to growth and promotions, as they give them personal goals to work towards.
Along the employee journey, InspiringApps offers professional development opportunities that help our team members stay on top of their skills, expand their capabilities, and incorporate new and developing interests. By doing so, our employees can have long tenures at InspiringApps, while remaining competitive. At the same time, we can hire the best candidates for our growing positions right from our own team.
As the InspiringApps client roster scaled, so did our team. We promoted long-time employees into our development team lead roles, recognizing their wisdom and honoring their commitment to our team through their tenure.
Offer Excellent Benefits
Many startups, including InspiringApps, may be resource-constrained in the early days. Health and retirement benefits are expensive, so we focused first on benefits that didn't require a direct cash outlay. Establishing a two-day-per-week remote work policy over a decade ago, accommodating part-time employees, and offering flexible work hours were all low-cost ways to treat our team with respect.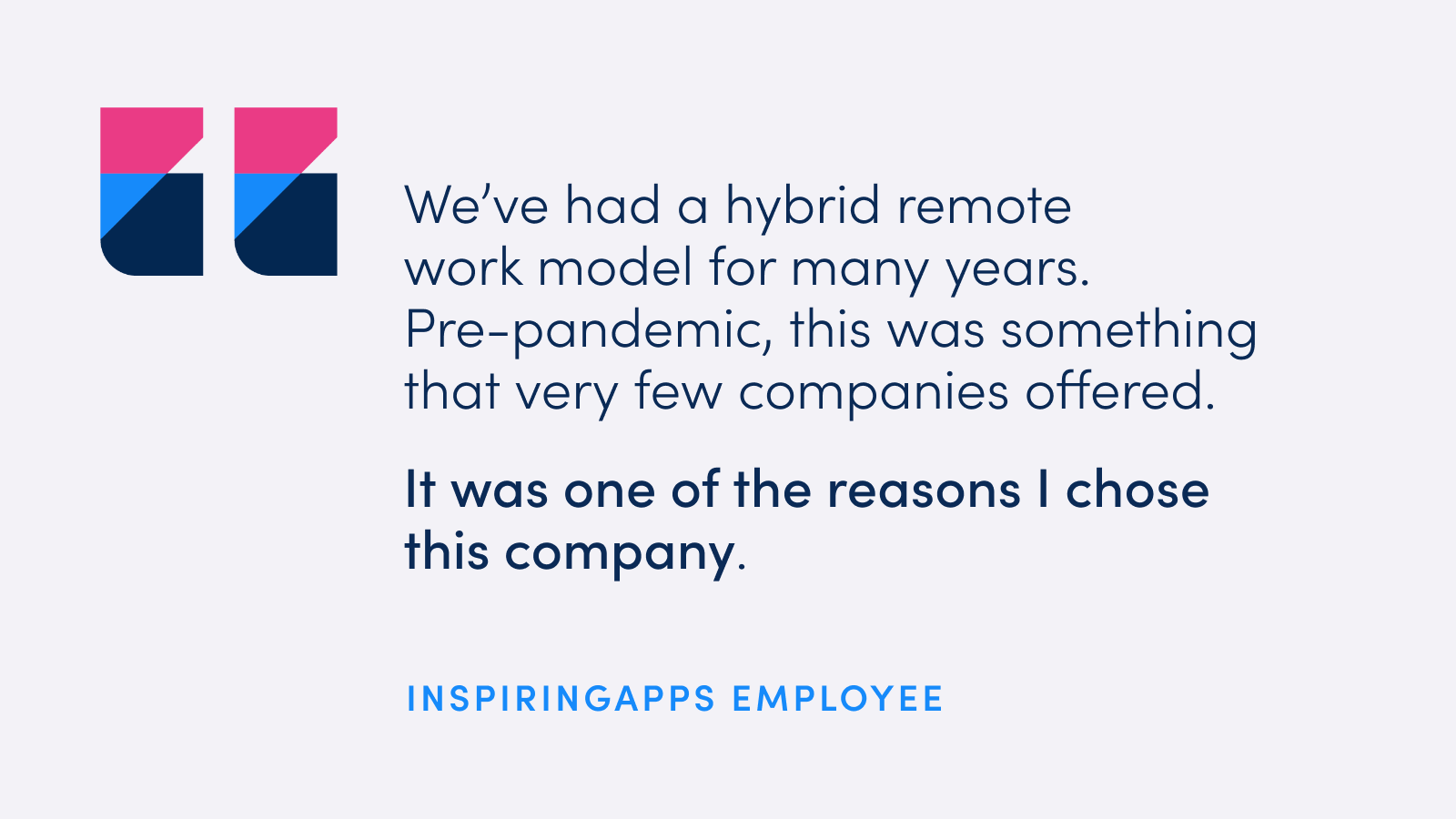 As InspiringApps matured, we also added more traditional benefits. In addition to a 401(k) plan with match, profit sharing, and a generous and flexible PTO policy, we recently increased the company's health premium contribution from 50% to 100% and added company-paid vision, dental, disability, and employee assistance (EAP).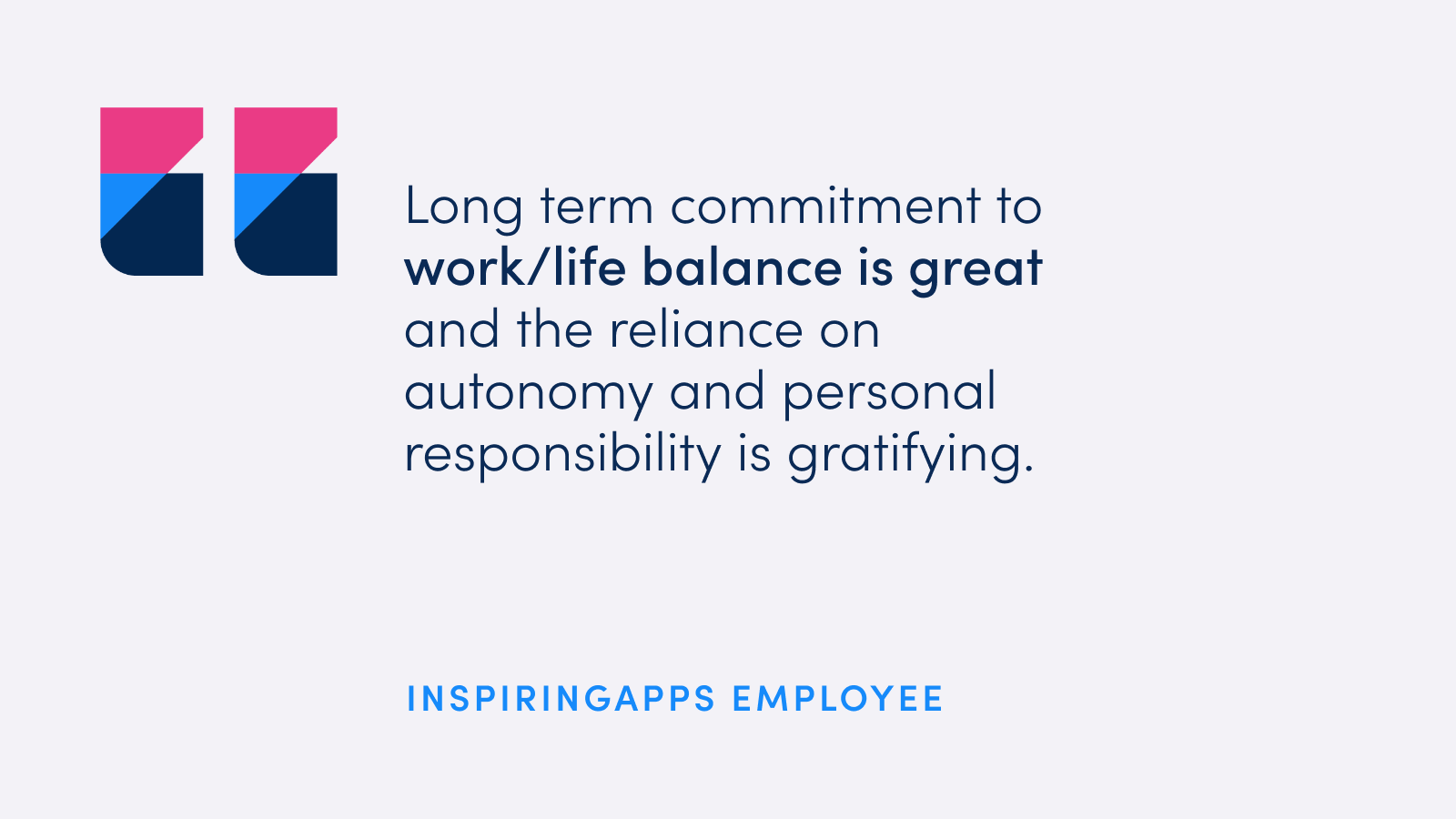 Be Inclusive
Inclusivity is a mandate kept top-of-mind in the projects and clients we take on and the staff we hire and promote. In a historically homogenous industry like tech, inclusivity can be a challenge. Through intentional recruiting and a focus on providing opportunities for traditionally underrepresented groups to join the field, InspiringApps is working to build a more diverse team that better reflects the communities we serve.
Promoting women in tech is one way we've made strides in our company. At InspiringApps, women make up 40% of our leadership team and more than a third of our employees, which is 20% more than the US average.
Promoting diversity and inclusion provides various perspectives, which is essential for the challenges we're addressing in our consumer apps. We consider it a competitive advantage as we continue to innovate for our clients.
Additionally, we've made a concentrated effort over time to welcome new employees. Years ago, that welcome included a team lunch on Pearl Street. Since our team has grown, that lunch is now digital—and the efforts to be inclusive extend much further than that. Communication and connection are ingrained into the way we set up projects, make progress on initiatives, and more.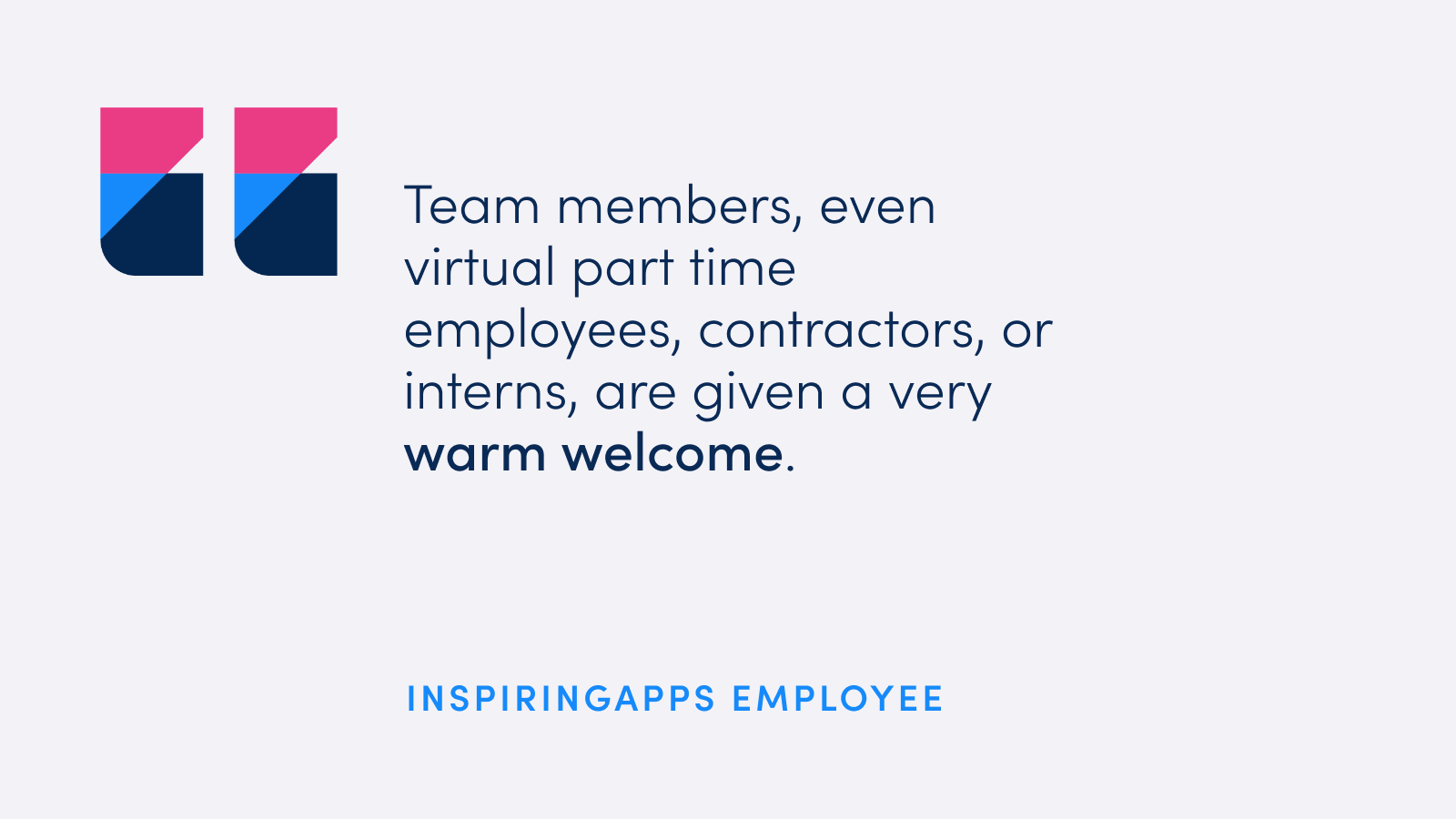 Communicate Consistently
Secrecy and unexplained decision-making from leaders lead to unengaged employees. Transparency is the answer. About 85% of employees are most motivated when they know what's happening and why.
Open and frequent communication, including standups and all-hands meetings, project or team demos, company newsletters, and social media, encourages employees to gain trust in leadership. When you share company goals regularly, your employees will feel confident in knowing the direction they're working. The more your employees see open communication from leaders and are encouraged to participate in decision-making, the better communicators they'll be with your clients, modeling positive communication behaviors in everything they do.
Technology is your ally when it comes to employee engagement. Offering a Slack channel or other internal chat features, an employee app, or an intranet site where employees can share and talk directly to leaders can inspire a transparent culture.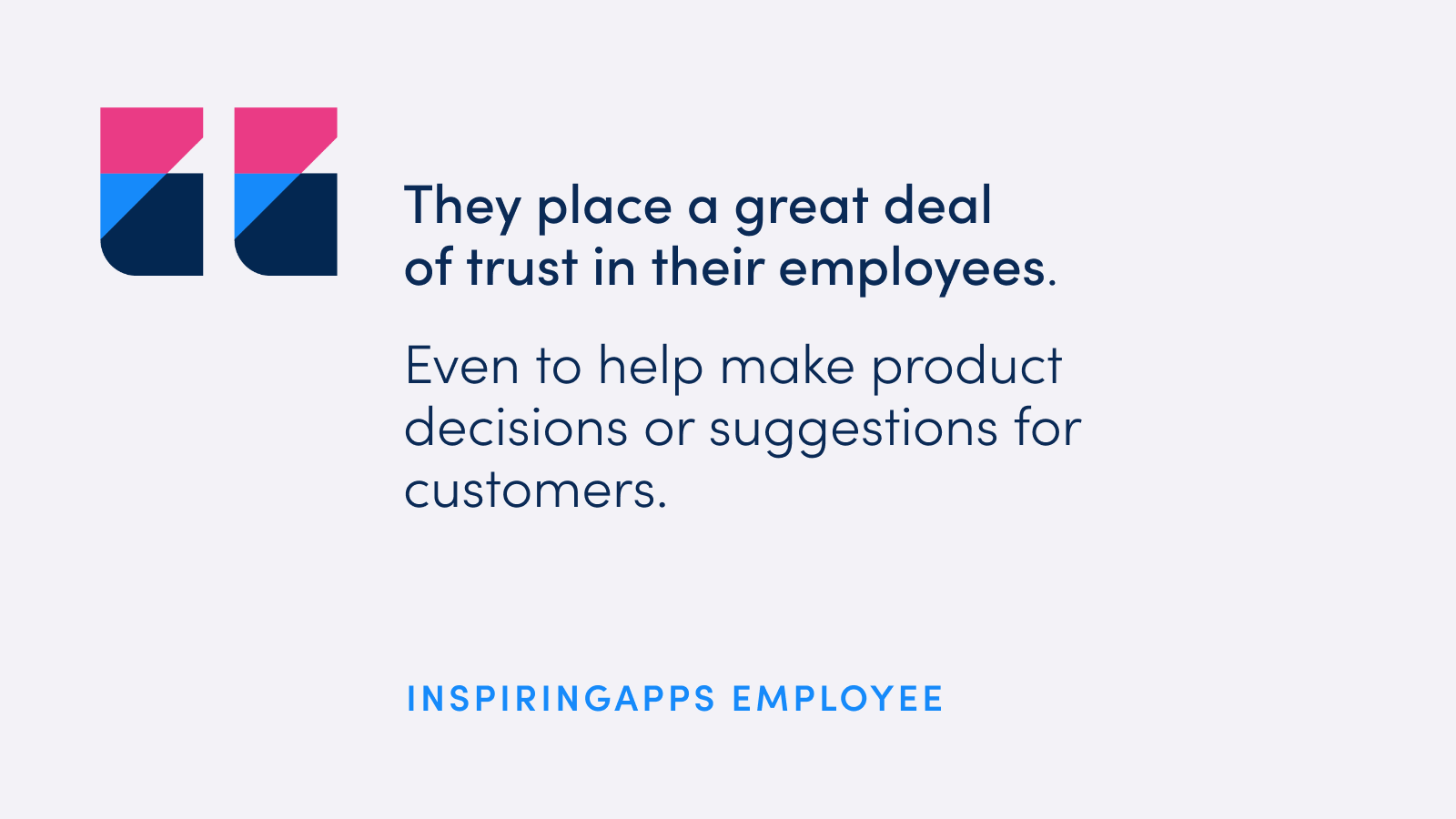 The Value of Culture
InspiringApps nurtures a culture of respect, empathy, and inclusivity. Our commitment to culture is exemplified by an official Great Places to Work ® Certification™. But that recognition is only a small window into the little things that our team is doing every day to reinforce the culture we've been nurturing for years.
Our culture is one of our most valuable assets. It defines our expectations for the way we treat one another. Beyond making InspiringApps a pleasant place to work, our culture is evident in our client relationships and in the apps we create.
Building award-winning apps starts with a language that's foreign to many of us: code. For more than 15 years, our app development team has built easy-to-use iOS, Android, and web applications serving over 100 companies in a dozen industries. See our work.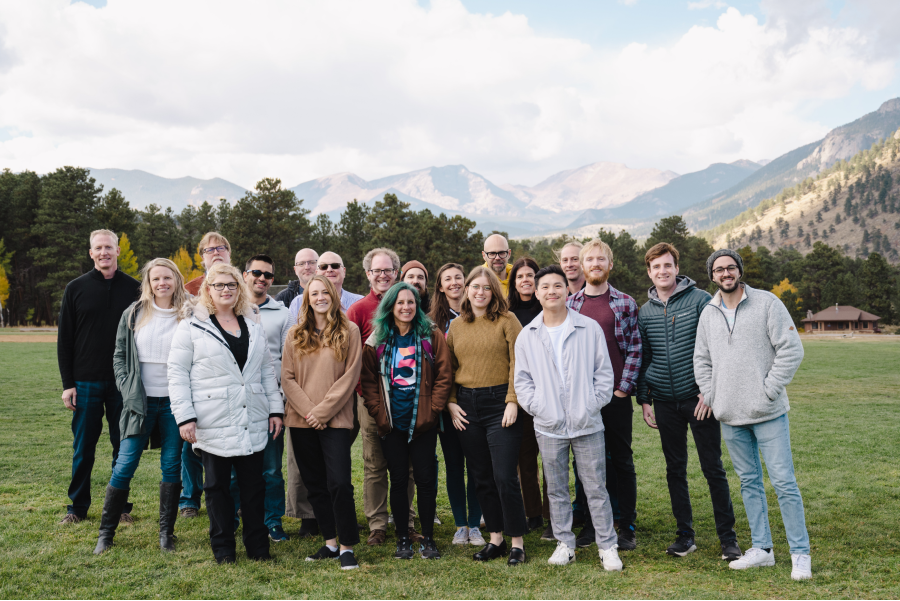 Let's build something together
Have an idea? We help clients bring ideas to life through custom apps for phones, tablets, wearables, and other smart devices.