iOS or Android: Which platform first?
8 months ago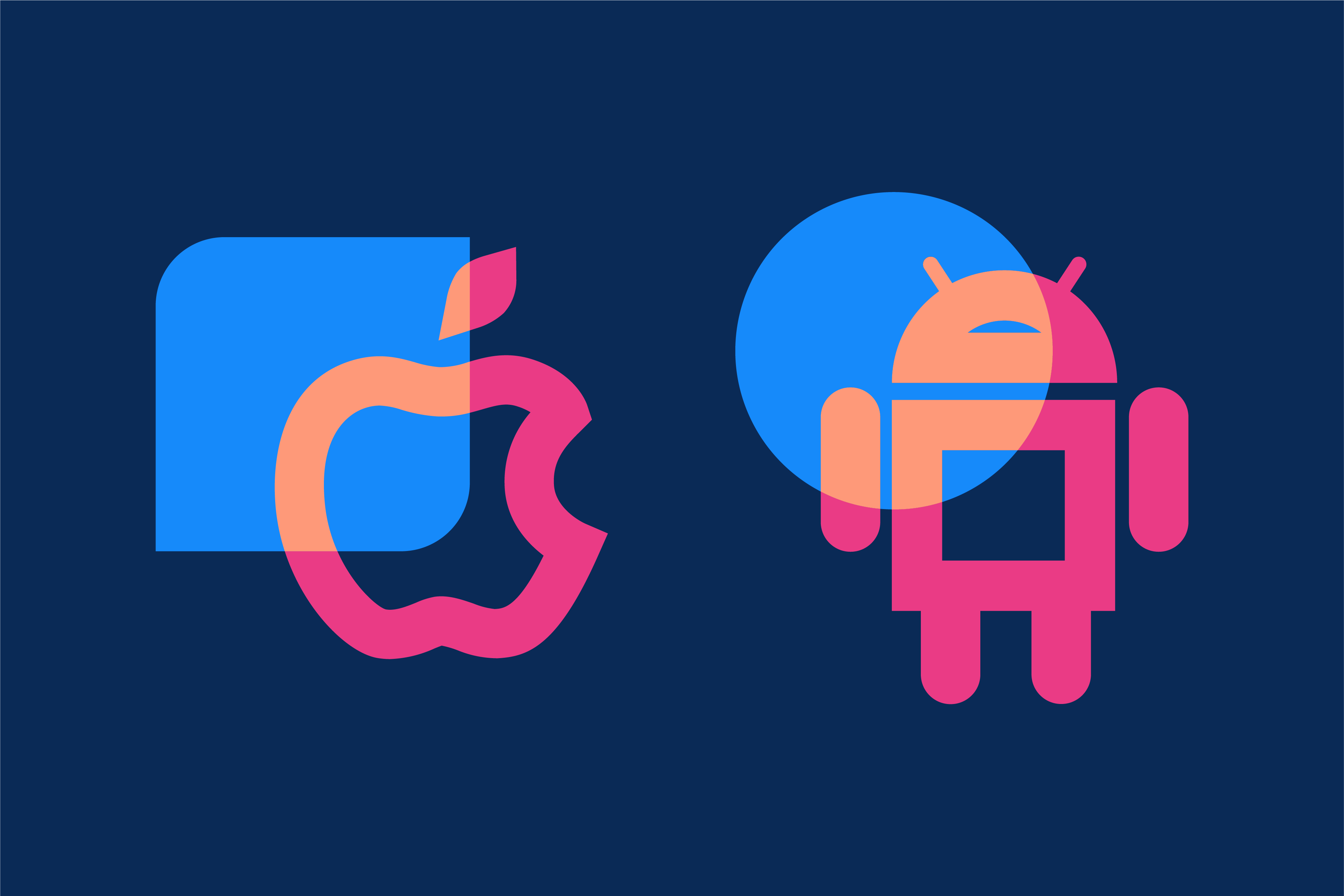 If you're looking to build a custom application, there are many different questions to ask an iOS app development company.
Still, one of the most common questions we receive about the development process is whether we recommend building both iOS and Android versions of an app simultaneously or just one at a time. And if app development for each platform occurs at different times, should iOS development or Android development come first?
We touch on this question in Chapter 3 of our book InspiringApps: A Business Perspective on Building Mobile Apps, but we will provide more insight on this debated topic here.
Should we develop iOS & Android at the same time?
When feasible in mobile app development, we recommend picking a single platform to start with rather than developing for both simultaneously. You may not have that luxury if you're developing an app to release to consumers who all need to have the mobile app at the same time—perhaps in conjunction with a film or other product release.
If it's possible, though, we think one at a time in the development process is better because it will enable you to learn from your customers on the first platform. Unless a mobile app is extremely simple, it will go through several iterations before it offers the desired experience.
Trying to manage learnings across both iOS devices and Android devices is cumbersome. Instead, the feedback and refinements from the first platform can be leveraged to speed mobile app development on the second platform, saving both time and money in producing across mobile devices.
What factors should we consider in picking an OS?
When advising customers whether to focus on Android development or iOS app development first, we consider these factors to help guide the decision.
Industry & Demographics
You may find an industry bias for operating systems (OS) that affects your project. For instance, we found iOS devices more prevalent in medical applications, while Android app development seems more prevalent in construction.
If you don't have industry insight, try checking your website's analytics to determine user platforms. Trends might help decide what type of platform may be best suited.
You can also use sites similar to Mixpanel to discover applications and software that would be more suited to that platform. If one platform is used far more than the other, you know a preference exists and should develop accordingly.
Likewise, depending on the market you are serving, you may also find that age-related differences affect whether you should focus on iOS app development or Android app development first.
Market Share
For app developers who intend to produce mobile applications for the general public and do not know the OS preference of their target audience, these market considerations may provide some guidance:
Android devices have captured most of the global market share for many years. Google provides free, open-source software that manufacturers can install on their smartphone devices. Because of the large number of Android users and the lower cost of Android devices to consumers, Android developers are at an advantage in many markets.
Unquestionably, Android is the world's most popular smartphone OS. However, Apple has a powerful brand, particularly in the US, where Apple's ecosystem, stable OS, and device durability enable iOS to keep large numbers of active and premium smartphone users.
OS Adoption Rates & Upgrade Complexity
Apple has a remarkable track record of getting iOS users to upgrade to current versions of its OS, whereas Android adoption is much slower:
As of May this year, 89% of users are on the current iOS.
As much as 60% of users keep older versions of Android on their phones.
Apple handles the distribution of its iOS updates exclusively. Developing for and supporting a smaller number of OS versions on Apple devices leads to quicker builds, faster testing, and more straightforward support in the long run for iOS developers.
Google only gives direct updates to its products, like the Pixel series. Other manufacturers like Samsung must first get the update from Google and optimize it for Android devices before they can send it to Android users. Some mobile carriers also go through updates before distribution, too. Android developers may have to deliver more app fixes as a result.
Speed & Ease of Development & Publishing
Speed and ease of development and publishing are not as cut and dry in terms of pros and cons. Android pros include:
The Android platform enables a more flexible development environment. Because Windows, Mac OS, and Linux all support Java—which Android relies on—Android developers can build Android apps on various machines.
Google Play allows developers to publish multiple versions of the same app (alpha and beta) to ensure developers can test the app live, fix bugs, and launch it to a broader audience.
However, developing and maintaining apps is generally more time-consuming for Android than for iOS:
Whereas iOS developers build for a limited type of device (iPhone, iPad, and Apple Watch), Android accessibility to a wide range of devices means more devices to test and support.
Google has become less lenient and more time-consuming towards apps that developers want to post on Google Play, narrowing the line between ease of publishing on Google Play vs. the App Store. And through TestFlight, Apple does support previewing versions of an app with up to a thousand beta testers before releasing it for wide distribution in the Apple App Store.
Development Cost & Profit Opportunities
Cost and profit will vary depending on the type and complexity of the app you're developing; still, Android apps are generally more expensive to create than iOS apps are for iPhones. Overall, Android users tend to favor free apps and spend less on in-app purchases than iOS users, which can lead to higher sources of profit on iOS, not accounting for market differences.
Should we develop for iOS or Android first?
If you've considered all the above factors, and neither platform is the clear winner, we'd recommend starting with iOS for a US-focused app. Our reasons are speed to market, lower development cost, and revenue generation potential.
Please contact us if you'd like to discuss your particular situation or have other questions on this topic. We'd love to hear from you.
Download our free eBook
InspiringApps: A Business Perspective on Building Mobile Apps was written to help you evaluate ideas and turn the best ones into a genuinely successful app for use within your company or for consumer sale.